IKEA opens, attracts Fishers residents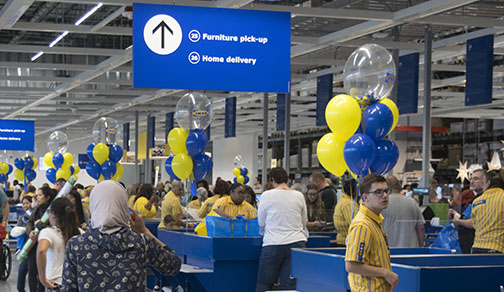 Equal to five football fields, the 289,000 square foot Fishers IKEA attracted people from all over the state. Two years after its announcement, Swedish furniture retailer IKEA finally opened its Fishers location on Oct. 11.
Two days prior, customers began to line up and camp outside the building awaiting the promised giveaways. The first 45 adults received an EKTORP couch, the next 100 adults received a POÄNG armchair, the first 100 children received a FAMNIG HJÄRTA heart-shaped soft toy and the first 2,500 people received a random prize envelope.
In addition to those giveaways, customers will also be able to enjoy free entertainment, balloon art and face-painting during the opening week.
IKEA was bustling on the opening day. Customers carrying big yellow bags or pushing carts walked around checking out deals and furniture. The store was filled with a general buzz of excitement and movement, according to senior Olivia Strobel, who took part in the opportunity.
"Opening day had a really energetic feel because even though the workers were probably super exhausted, they had a really positive and welcoming attitude," Strobel said. "The customers also were obviously super excited because it's our own personal IKEA."
IKEA is the world's largest furniture retailer with more than 301 stores and 30 franchised units, according to Forbes. It has hundreds of items from plants and home decorations to whole kitchens. The store also has a restaurant and a Swedish food market.
"I feel like IKEA has something for everyone because it has so many options," Strobel said. "I definitely found things that I would have bought if I had had my money with me."
To learn more about the deals that IKEA has to offer,  click here.