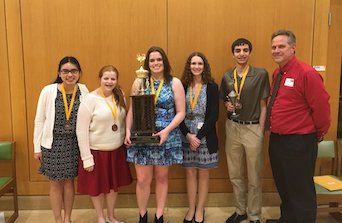 Senior Sarah Hiatt won in acclaim from IUPUI in its annual high school math contest: "Math and Racing." The contest consisted of six problems complex math problems  ranging from oscillations, variance, friction and more. Students had between Jan. 20 and March 9 to answer the first five individually, and do the sixth one as a team. They held the awards ceremony on April 13.
The rewards were separated into three tiers, each receiving a reward sum and a scholarship which is renewed annually for four years. The third tier consisted of ten winners, each who received a $100 and a $2000 scholarship. The second tier had five winners and $150 and a $2000 scholarship, and there was only one winner for the first place which took $300 and a full ride scholarship.
Multiple Indiana high schools participated, between them Carmel HS, HSE, Zionsville, Avon HS and more. Yet, FHS won the School Award in 2016 and again this year.
As a sophomore, Sarah Hiatt participated in the competition, scoring in the third tier. Junior year, she participated again but then winning second place. Now, in her senior year, Hiatt took home the first place alongside the full ride.
"This was her third time entering the IUPUI math contest, I know she was very motivated since it was one of the schools she wants to attend," mathematics teacher, John Drozd said.
Other FHS winners included sophomore Collin Tully, juniors Tiffany Le, Rebekah White, Hope Fury, Madison Costes, Ben Fong, and seniors Zach Ghera and Sarah Hiatt.
"The students did a very good job, putting together quality entries this year and I was proud to see how many students were prompt to enter the contest," Drozd said.