Two undefeated teams enter, one leaves
Lady Tigers face first defeat against Millers.
Noblesville and Fishers high school varsity soccer teams arrived undefeated at the game on August 29, but only the Millers were able to keep their perfect record.

"The game was fun, even though we did not get the outcome we wanted." sophomore Katie Holt said. "We fought through the game and did not give up."

The start of the game had the Millers drawing first blood, scoring in the first five minutes. However, the Tigers were able to tie up the game six minutes later with help from sophomore Kaysey Castro, evening out the score to 1-1. Both teams played lockdown defense, not allowing a goal for 17 minutes until the Millers took another 2-1 lead at the end of the first half.

"I think there are many things collectively that the whole team could improve on," senior Delaney Whelan said. "But, we did a very good job at clearing balls and working together to play."

The Millers took a lot of defensive action during the second half, where they were able to stretch their lead to 4-1. The Tigers tried to claw their way back into the game for the rest of the second half, but ultimately could not change the margin of defeat. The final score was 5-2. Tigers will travel to mudsock rival HSE for next game on sept 5.
Leave a Comment
About the Contributor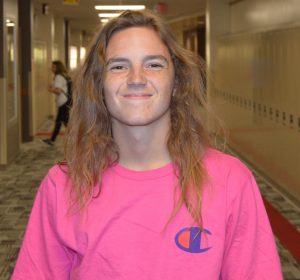 Lance Marshall, Social Media Editor
Lance Marshall is the social media editor. He prefers writing about sports, and specializes in basketball games.