Boys Basketball defeats Franklin Central with 13-point margin
Boys' Varsity Basketball won by a 13-point margin at its home game against Franklin Central on Jan. 26.
After starting with the ball, the FHS capped its first points within the first minute. The ball bounced back and forth across the court for the first period without many pauses, and FHS kept just ahead of Franklin Central by one three-pointer for a first period score of 16-13.
Franklin Central briefly took the lead during the second period with a tip-in. However, they lost the lead after a few minutes when senior Willie Jackson recovered Franklin Central's shot off the backboard and drove it to the opposite end of the court in a few seconds. Jackson continued that strategy throughout the game, with several of his pushes ending in goals. Jackson, freshman Jeffrey Simmons and senior Josiah Matthews were the top point scorers.
"I think Willie and I continuing to keep our guys together and do what we were suppose to made it easier for us, and him and I guarding their best players made sure they didn't get easy baskets," Matthews said.
The rate of scoring slowed down during the third period, with several moments going by before Franklin Central finally changed the scoreboard with a free throw. FHS saw multiple falls and stumbles while trying to make their shots, and called a thirty second timeout to give a few of their fatigued players time to rest. Both teams made shots from the three-point lines, which allowed the point difference to remain nearly the same.
"I wasn't surprised as our team always expects the best of our opponents, and despite their record teams always play their best basketball when they play us," senior player Luke Hernandez said.
The slow point gain kept up during the fourth period, but both teams opted to play closer to the net and make their points using more tip-ins. Franklin Central regained a few points as the seconds whittled down, but not enough to close the point gap. The game ended with a score of 67-54.
Leave a Comment
About the Contributor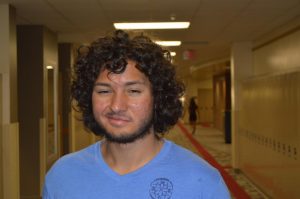 Ethan O'Sullivan, Web Editor
Ethan O'Sullivan is a third year writer on staff, and has served as the Web/News Editor for two years. He has a personal interest in data journalism and...