Vanlandingham plans Harry Potter tour in Europe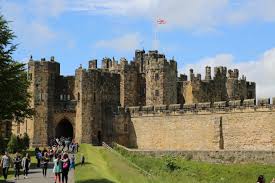 Magical trains and schools of witchcraft are often associated with England thanks to the wizarding world of Harry Potter. English teacher Renée Vanlandingham has planned a trip to Scotland and England from mid to late June in 2020, so students can experience the places discussed in the book series and other British literature for themselves.
"I'm hoping to do it because next year is my 50th birthday and I've always wanted to go to the British Isles," Vanlandingham said. "I've taught British lit for sophomore honors for many years, so I'm so excited to see the places I've only ever read about."
The trip is already planned with several stops and nonstop activities. The group will stop in the cities of Glasgow and Edinburgh in Scotland and Yorkshire, Birmingham, Oxford and London in England.
The group will ride the Jacobite steam train that was used as the Hogwarts Express in the Harry Potter movies in Glasgow. They will tour Edinburgh, the city where JK Rowling received inspiration for her books. In Oxford, they will visit Alnwick Castle that gave rise to Hogwarts to take flying broom lessons. At their last stop in London, they are planning on a behind the scenes tour of Warner Brothers' Harry Potter sets.
The trip will also focus on British literature and history. They will visit the home of William Shakespeare in Stratford-upon-Avon. Historic castles will be a main point of attraction, and they will get a chance to visit Westminster Abbey and St. Paul's Cathedral in London among many other places.
"Travel is always the most amazing experience because you get to meet people from around the world, see how they live, see how similar we are and also how different," Vanlandingham said. "It's fun because we're going to speak the same language that we do even though they'll have thicker accents. You also get to experience unique cuisine."
Vanlandingham encourages students to explore the city and get a feel for their culture. All of the hotels and bed and breakfasts they will be staying at are in the heart of the cities giving students the opportunity to be immersed in the environment.
"I love England and Europe in general and would love to go," sophomore Evelyn Derrer said. "I want to go on this particular trip because I have been obsessed with Harry Potter for years and it would be amazing to see the real places."
The trip will be booked through EF tours. There is no cap limit to the amount of people that can go. Five people minimum are needed to make the trip happen and for every six additional people an extra chaperone will be needed. It will be an 11 day trip with a cost of $4,800 with all costs covered other than lunches.
Students who are interested in attending the trip can pick up a brochure in room B236.
"This is a cross cultural experience that will expose students to the world," Derrer said. "It helps students to broaden their horizons and experience something in a context they will never have access to again."