Many streaming services flood entertainment industry
With a click of an app, students no longer have to spend extra money and energy to drive to the theater but are able to pick and choose whatever movie they would like at any time. With the release of Disney Plus on Nov. 12, consumers now have greater access to content that Netflix can not provide such as films from Disney, Pixar, Marvel, Star Wars, and National Geographic. Although there are many streaming services, each has its own unique benefits.
"In an age of instant gratification, I believe that the need to go to the movies has been replaced by people using streaming services to let them sit on the couch at home," junior Isaac Anderson said.
Disney Plus ($6.99 per month)
Being one of the cheapest subscriptions on this list, Disney Plus offers an array of selections from "Toy Story" to "Bambi". Disney has many nostalgic movies that students may have watched when they were little and provides new content that other streaming services are unable to provide. Furthermore, it even provides 4K Ultra HD resolution for some of its movies. However, the negative aspects of Disney Plus are that it had many technical problems on its release date and some continue to persist, according to Variety.
"Disney Plus has allowed me to relive my childhood, watching my favorite shows and movies all night long," senior Caroline Collesano said. "One thing that I dislike about it is that I have to go find every episode that I want to watch."
Netflix ($8.99 per month)
One of the most popular streaming services with 139 billion users by Jan. 2019, according to CNN, Netflix has many film options for its viewers. Also, it has a recommendation system that allows for users to find similar movies or shows that they may enjoy. However, with the lowest subscription starting at $8.99, Netflix may become expensive for students, and many movies and shows come and go. With the release of Disney Plus, customers may see a limited amount of movies from Disney on Netflix.
"Netflix is a good example of how to do online streaming services well because it has a wide variety of movies and TV shows to watch," Anderson said. "They have a good library to watch in any situation."
Hulu ($5.99 per month)
Allowing students to keep up with TV shows without cable, Hulu has a wide variety of current TV shows and even allows users to access older seasons. It provides TV shows from many network shows, ranging from "Nathan for You" to "Atlanta". However, one of the downsides of Hulu is that it has advertisements and commercials that may disrupt a user when watching episodes of their favorite show.
Amazon Prime Video ($12.99 per month)
Similar to Netflix, Amazon Prime Video has a wide variety of selections that their users can choose. Although it is one of the more expensive subscriptions on this list, online shoppers may be happy to find that this price tag also comes along with free 2-day shipping, exclusive shopping deals and selections, and much more. However, Amazon Prime Video does not have many brand new films available for its users, and for some video devices, Amazon Prime Video may be unsupported.
HBO Now ($14.99 per month)
Offering popular and award-winning shows such as Game of Thrones, Westworld and Silicon Valley, HBO Now allows users to access HBO series without a cable subscription. Prospective customers can try out HBO Now during a 30-day free trial and access a wide variety of movies and TV shows. However, HBO Now may get pricey for students with a cost of $14.99 per month. Also, TV shows are released one at a time on HBO Now, whereas Netflix releases whole seasons at a time.
Although these streaming services give users access to existing movies and TV shows, companies like Netflix and Amazon have begun creating their own original shows and movies, becoming a direct competitor with other entertainment industries. These streaming services have become more personalized to the individual consumer, and it may be possible that streaming services are becoming the future for the film industry.
Many entertainment companies should begin their own streaming services in order to provide convenience and reliability to students and other users. Without innovating their traditional ways of sharing entertainment, these companies risk becoming outcompeted by bigger streaming services such as Netflix and Disney.
Leave a Comment
About the Contributor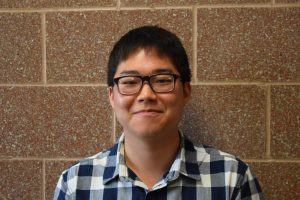 John Yun, Web/News Editor
John Yun is the Web/News editor. He is Korean, and he loves to sing and dance. His favorite movie is "Avengers: Infinity War," and his favorite restaurant...