Best Amazon products for your 'self care night'
Taking care of yourself and your community is a priority the CDC (Center for Disease Control and Prevention) believes should be cared for during the COVID-19 outbreak. On their website, the CDC says that a way to cope with stress is to take care of your body. The Mental Health America national organization says a good way to deal with stress is to find a way to relax.
"Having a self-care night helps slow things down and allows me to have devoted time to myself," sophomore Ava Hunt said. "So that being said without them, I feel like my mental health would worsen because I wouldn't take the time to relax and get to know myself better."
With that being said, here are the best products on Amazon, for a self-care night.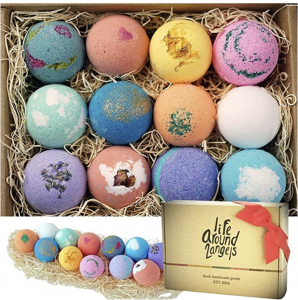 Rated: 5/5 stars with 11,271 reviews
Bath Bombs are found to be "less about function, more about the sensory experience." Allure Magazine says. These bath bombs are said to be therapeutic and moisturize normal/dry skin, as well as being individually wrapped for protection during shipping.
"I was very excited to see that these bombs are handmade in the United States," user Kelsey McKinzie said. They also are made of ingredients that are familiar to me. I ordered with Prime so they arrived in two days, as promised. The packaging is very simple. The bombs were well protected during their journey. None of mine felt broken. I could smell them through the box! Very strong, yet awesome, scents. They have a small sticker with the names of each bomb on the individual wrappers. I tried "Fun on the Beach" first. My entire bathroom smells amazing! My water is a hot pink/purple color. The bomb took about 2 minutes to dissolve entirely. I am so excited to try them all! Please support this small business."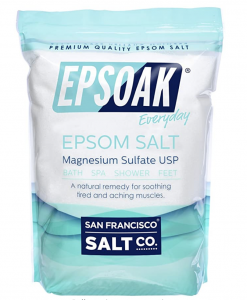 Rate: 5/5 with 4,018 reviews
Epsom salt is magnesium sulfate, which is shown to help headaches, relax certain muscles, help release the tension in muscles, as well as release stress, anxiety and depression states the Cleveland Clinic Organization. As well as making sure the Epsom salt bought is 100% magnesium sulfate, which EPSOAK is.
"I love this huge bag of Epsom Salt! It's cheaper to buy this bag rather than the small bags of Epsom salt at Walgreens or CVS," reviewed Heather, who gave the salt 5 stars. 'I use a cup of this in my bath about 3 or 4 times a week with essential oils. Using this will help replenish the Magnesium that your body is lacking. After I take 1 bath with this, my headaches are gone instantly. Fast shipping! The San Francisco Salt Company also has friendly customer service because they sent me an email to follow up on how I liked this. I will buy again soon!!!"
New York Biology: Dead Sea Mud Mask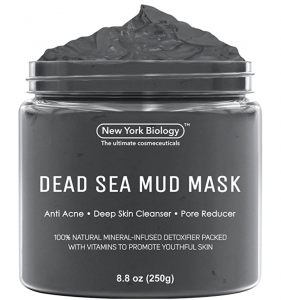 Rate: 4.5/5 with 4,699 reviews
Dry, oily, combination or sensitive skin can all use this mask. This product can also be used daily and is an acne treatment. This dead sea mask is made of the Dead sea's minerals and unclogs pores. This product is also cruelty-free, as well as being paraben, alcohol and sulfate-free. Mud masks are shown to reduce wrinkles, pores, rosacea, and have a more even skin tone shown by Marie Claire.
"This mask is specifically made for oily and acne-prone skin; it isn't moisturizing," Amazon user Maya Stephanoff said. "But, that's not what I need. The mask feels like butter and it doesn't get itchy as it dries whatsoever. With most deep cleansing and pore reducing masks I've had, it gets that way and irritates my skin. I got the Eucalyptus Oil version and I love it. It cools your skin but not in an overpowering way. My favorite mask ever and I have tried MANY."
Sky Organics: Organic Castor Oil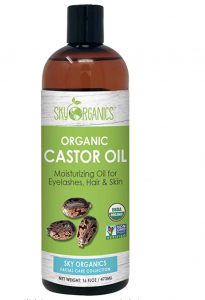 Rate: 4.5/5 with 10,061 reviews
Used as a laxative, a natural moisturizer, acne reducer and hair conditioner are just several of the many ways castor oil can be used on the body. Sky Organics: organic castor oil is 100% all castor oil, USDA certified organic, and is cruelty-free. Sky Organics marketing castor oil to moisturize the skin and also the eyelashes and hair, castor oil actually have properties to moisturize the hair and lower the odds of breakage in the hair. It is recommended to test a small dab of castor oil onto the skin to make sure it does not cause an allergic reaction.
"I have only used this castor oil once in my hair but have been using for my eyelashes and eyebrows for the past week and I love this stuff," Amazon customer Shab said. "My eyebrow hairs have started coming in faster and eyelashes seem thicker (probably with more use, can see better results). You get a lot of product for the price and the oil is very good quality (clear liquid with corn syrup-like consistency). Will update review after using the product longer to comment on the results but so far I am very happy with the product!"
Leave a Comment