Students pursue hobbies with more time on their hands
Since the start of quarantine, people have had more free time to develop skills and work on activities they enjoy. With more time on their hands, students have taken up new hobbies they never tried before and worked on skills they have not had a chance to advance during the school year.
Cooking
With more time, students can try more complex recipes that take more time and concentration. Senior Mimi Kobayashi started helping her family cook meals since quarantine started, and now they have a rotating schedule for who cooks meals. Kobayashi cooks at least three-course options (main course, soup, side, etc.) per meal to expand her skill set.
"I'm going to college next year where they don't have meal plans, so I need to learn how to cook for myself and I thought the quarantine would be a perfect opportunity to learn," Kobayashi said. "When it turns out good and tastes better than expected it's a really good feeling."
Sewing
Another activity that students have started working on is sewing. Sophomore Steffi Dixon took up embroidery a week ago to combat her boredom. She started with the help of her mother since her mother knew how to embroider already. Dixon is currently using stencils to help her but wants to sew onto clothing in the future.
"It's something I can do while listening or watching something else and it's very calming," Dixon said. "I plan to embroider as much as I can after the quarantine is lifted."
Video Games
Many students like Kobayashi have also turned to video games to fill their free time and stay connected with friends online rather than in real life. Kobayashi started playing Minecraft a couple of weeks ago when a friend asked to play with her. Since then, she has been playing to keep her busy, since it helps her pass the time.
"I always wanted to learn how to play because it's been a common game," Kobayashi said. "I get to use my creativity, and I get to explore the terrain and collect new resources."
Leave a Comment
About the Contributor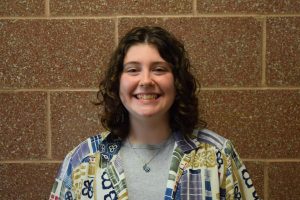 Sydney Territo, Reporter
Sydney Territo is a senior news reporter. She enjoys dressing like an old man as well as fall, her car, and her dog, Willow.