Junior Kyle Ponsler makes Olympic Trials cut
On Nov. 12, junior Kyle Ponsler raced the twentieth fastest time for a 16-year-old boy in US Olympic Trials Qualifying Standards history for the 400 individual medley (IM). Ponsler achieved a qualifying cut for the Olympic Trials in Omaha, Nebraska with a time of 4:23.83, beating the trial cut time of 4:25.99 by more than two seconds. If Ponsler places among the two fastest finishers in Omaha for the 400 IM, he will secure a position on the US Olympic Team and race in the 2021 Summer Olympics in Tokyo, Japan.
Despite the personal achievement of this moment, Ponsler attributes much of his success to his teammates and coaches.
"Having my teammates push me in practice and make me get better every single day has been a major motivator," Ponsler said. "They [my coaches] are a massive part of my career, and I don't think I could be at this point without what they do and how supportive they are of everyone's goals. I think just having them there is huge in making everyone better."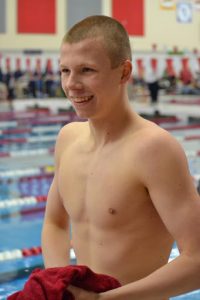 Ponsler does not feel much pressure from being one of the fastest swimmers on his team and in the country. Instead, he said that assuming a role of leadership as you improve is part of being a great swimmer. 
"Guys at the top and girls at the top know that people sort of look up to them," Ponsler said. "They know that they just have to take on that leadership role."
Ponsler said that he takes on this role by leading by example. He emphasizes his teammates' success when talking about his own.
"During practice, I always need to make sure that I'm being consistent and that I'm being supportive of my teammates' goals," Ponsler said. "I think that since they helped me get to the point where I'm at, I should be available to reach over and give the favor of helping them get where they want to go."
Ponsler's head coach, Joseph Keller, highlighted the growth Ponsler has achieved as a leader, person and swimmer by incorporating the swim team's values, such as grit, integrity and respect.
"Kyle is a natural leader. He continually leads in training and performance in the pool," Keller said. "His growth as a person has elevated him into a dominant swimmer. Specifically, Kyle's personal maturity has allowed him to realize that his continued improvement will come from improving his physical weaknesses."
While Ponsler ensures he is available to meet his teammates' needs, he also focuses on his rigorous training schedule. This schedule includes two practices every day except Friday, which only has one practice; and a longer practice on Saturdays. On days with two practices, Ponsler has to be in the pool before school from 5:30 a.m. to 7:00 a.m. and after school from 2:45 p.m. to 5:15 p.m. Tuesdays and Thursdays also include weights after the second practice.
With this schedule, Ponsler feels it is necessary to do a variety of recovery activities and have as much fun with it as possible.
"I spend a lot of time trying to recover my body," Ponsler said. "I'll go to cryotherapy, try to stretch a lot, just do things like that. I also think being a one-sport athlete gets kind of boring so every once in a while I'll go play a basketball game or something else just to switch it up a little bit." 
Keller also feels that it is important for Ponsler to switch up his schedule at times to reduce the risk of burnout. This includes some different training exercises depending on the day. 
"Kyle's competitive spirit welcomes challenges and that comes in the form of variety," Keller said. "Training all strokes, whether daily or from one day to another, keeps it intriguing for what the next challenge may present. Kyle thrives in that environment which suppresses burnout."
Keller believes that Ponsler's ceiling for improvement is high if he is willing to work on the technical aspects of his swimming. He adds that he is not surprised at all that Ponsler has achieved so much success from such a young age.
"Kyle is a racer and his competitive spirit is a major factor in his success," Keller said. "I think it is fair to say that he loves to win and uses any setback or failure to only become better and tougher."
Ponsler will race in Omaha, Nebraska at the Olympic Trials. The trials will be held the week of June 13 to 20.