Fishers Tutors Club aims to help students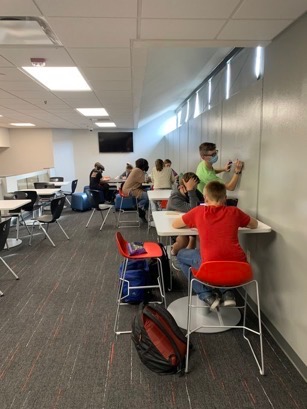 Finals week has hit the district, and students feel the need for some extra help. Coordination with junior Sankelp Srivastava, president of Fishers Tutors, has allowed students at Fishers Junior High to receive tutoring when they feel they need extra help. 
     "The past year has been pretty tough on a lot of students," Srivastava said. "Especially for middle schoolers, and as they're coming into high school it can be pretty tough. The more we can help the students the better off they will be for high school and college."
     The club started in October of 2021 with the partnership of Fishers Junior High school counselor Kitti O'Neill and FHS teacher Renee Vanlandingham. There are no restrictions when joining the club, although students are recommended to have strengths in certain subjects. All grade levels 8-12 are welcome.  
     The club meets every Thursday from 4 p.m. to 5 p.m. in room B236 before traveling to Fishers Junior high for an hour. Weekly check-ins with the tutors occur after school on Tuesdays for 30 minutes. The club is volunteer-based and counts for service hours.
     "It has been a lot of fun with the kids," Srivastava said. "I know it's very cliche, but I'm learning things too. There are a lot of things that I don't remember from middle school that have helped me." 
     The club plans to expand into other schools in the area such as New Britton Elementary, but with 12 tutors, they are looking to expand the club before moving to more schools.  
     "I definitely encourage people to join the club because it gives you the opportunity to meet new people from Fishers," junior Ben Connelly, club tutor, said. "One nice thing about the club is that there's not a serious time commitment, so I can still be involved with other groups in the school." 
Social Media: Remind: text @tutorsfhs to 81010
Club Meeting Info: Meet on Tuesdays at FHS for quick check-ins (3:00 – 3:30) as tutors; we will tutor junior high students on Thursdays (4:00 – 4:45 PM). A full schedule of meetings can be seen here.