Signing in silence
In light of National American Sign Language (ASL) Day on April 15, ASL teacher Angela V. Farrand's first period students along with the help of ASL club hosted 'Education Explosion', an event centering around deaf culture during targeted instruction on Thursday, April 14.
"The reason that that date was specifically chosen was that it was when the first deaf school was opened in Connecticut," Farrand, ASL teacher said. "That's why national ASL day is on April 15th to commemorate that school's opening."
A main theme that occurred throughout the entirety of the event was educating other students. Whether that ranged from teaching students how to sign their names or popular phrases to talking about the struggles of deaf culture.
"The activities we have lined up are super fun, and it is exciting to see everyone learning more about deaf culture and ASL while also enjoying themselves," junior Allison Van Dyke said. 
The event was hosted as a step towards spreading awareness to the high school student body about deaf culture.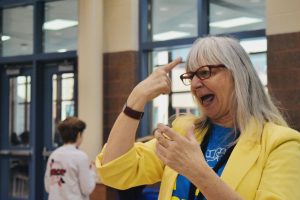 "My goal for this event was to bring more exposure to the student body," Farrand said. "About American sign language and history."
Along with educating others about the deaf community, the event helped combat common misconceptions by debunking them and explaining to students the correct notions. For example, according to Farrand, using terms like 'disabled' or 'impaired' hearing can be taken in an offensive way. The right way to refer to the community is 'deaf' or 'hard of hearing'.  
"One misconception is that  we need interpreters to live with us, to help us with our daily lives," deaf and hard of hearing teacher, Jeanee Peters said. "We don't, we have our own independent lives. Same as everyone else. We pay our taxes. We drive, we own property, all of these different things. We can do everything a hearing person can do, except hear."
Education Explosion had a wide variety of activity booths to convey various messages and lessons, a projector that constantly showcased different expressions in ASL and an abundance of students who added to the outcome of the event.  
"[It] has been beyond my expectations, in the best way," Farrand said. "I am absolutely thrilled seeing everybody communicate together, it's just like water for my soul. It's really been wonderful."
For most students, ASL can be intimidating at the beginning because it is a different and unfamiliar way to communicate. According to Farrand, she keeps motivating her students to continue learning.
"At first, my students were lost and unsure what they're going to do, but as they continued to get exposed to the language, that light bulb turned on," Farrand said. "That is my fondest memory to see my students' faces and eyes just light up with joy and excitement once they finally get it."
While some students struggled with ASL at first, their growth shined through the effort they put in for the opportunity to educate others about the culture and language. 
"The students involved this year were extremely creative and it was obvious that they enjoyed it, which made the experience better for everyone." Van Dyke said.
Farrand refers to how these types of events affect the deaf community in a sense of feeling included and empowered.
"It's really hopeful and inspiring for deaf and hard of hearing students to see people are willing to learn. [This not only causes] exposure for the deaf and hard of hearing community, but also for the students within our own school community."
Leave a Comment
About the Contributors
Malak Samara, Editor-in-Chief
Malak Samara is a junior at Fishers High School. She heavily enjoys law and loves to write, draw, read, listen to music, and hang out with her friends!
Veda Thangudu, Features Editor
Veda is the features editor and a junior at Fishers High School. She's excited for this year of newspaper.