Wrapping up the season
Fishers Farmers market end their season.
   The farmers market in Fishers is hosted twice every week, on Wednesday evenings and Saturday mornings. The Saturday market would be at Nickel Plate District by the Amphitheater and the Wednesday one at Saxony. Saturday morning market's season started on May 7 this year, and ran through Sept. 24. It started at 8 a.m. and ended at noon every week. The market had about 75 vendors, who advertised and sold the products for the visitors. 
   "My favorite part is that every Saturday, it's its own event," director of the farmer's market Erica Foreman said.  "There's a different type of exercise in the morning, that'll get 25-30 people up on the stage bright and early. We've had a variety of people doing entertainment this year, from 10 to noon."
   While not as big as the Saturday market, the Saxony market with about 25 vendors started on June 1 and ended on Aug. 31. Every Wednesday, it ran from 4:30 p.m. to 7:30 p.m. Foreman talks about how the team is working on revamping the market next year.
   "The Wednesday market was new to us this year," Foreman said. "We're changing it to incorporate artisans. There'll be art, food trucks and more family entertainment."
   Sophomore Ella Robertson is a vendor in the Saturday market from the business they work for, named Rose and Lois. Robertson enjoys where they work. 
   "It's really fun, we're really busy," Robertson said. "Everything's very organized and prepared. We always know where to go and where everything will be."
   Junior Addie Akin enjoys attending the Farmers Market. She usually goes with her friends.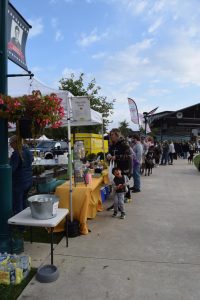 "I personally like the environment of the farmers market and all of the variety of booths, it is more exciting then going to the grocery store especially when you go with friends," Akin said.
   The Farmers Market has a range of different products for visitors to purchase from different vendors. According to Foreman, all of the vendors are like a family.
   "They're supportive of one another, helping each other take down tents and picking up products," Foreman said. "It's really nice to see the support everybody has for each other." 
   Within the supportive environment, the vendors often trade their products.
   "We get to swap food with other vendors, I get to try all their stuff," Robertson said.
   According to Foreman, the relationships built between the market staff and the vendors is important. She believes that she does what she can to make the vendors feel appreciated, seen and heard.
   "We've been really blessed with the vendors that we do get year after year," Foreman said. "The consistency and the quality of products that they have to bring has made us very successful."
   Foreman describes the development performed to improve the Farmers Market and other Fishers events. 
   "The big change has just been the space," Foreman said.  "It's just gotten bigger and better. They've added the pavilion, so there's more restrooms."
   As the season ended, Foreman thought back and reflected on this year's farmers market.  
   "The sunrise has always been beautiful," Foreman said. "People enjoy themselves, we get a lot of compliments, it's pet and kid friendly."
Leave a Comment
About the Contributors
Veda Thangudu, Features Editor
Veda is the features editor and a junior at Fishers High School. She's excited for this year of newspaper.
Lainey Akins, Reporter
Lainey is a sophomore at Fishers. She enjoys playing rugby and watching Marvel.