Action in the auditorium
'Legally Blonde: The Musical' touches down at FHS.
November 18, 2022
Fiction and music have always been a significant part of human culture. One of storytelling's earliest forms is live theater which consists of, actors performing their roles live in front of an audience. The performing arts program is currently putting on the musical 'Legally Blonde', with the show running Nov. 17 through Nov. 19. 
   "With theatre or any type of performing arts, we are like family and performing in any show is really special because you are spreading joy to an audience," senior Trey Weger said.
   Many stories connect with their audiences by commentating on the human experience. 'Legally Blonde' is a story about love, effort, and being true to one's personality. Connections are prevalent between characters and real people, with one of the strongest character-person connections being between an actor and their role.
   "I love [Pilar] because she's like a version of me, so I get to play myself, but on stage," actor and junior Claire McCaskill said.
   As with every musical, the cast and crew both put in a lot of effort to make the show possible. In addition to the usual work, this was also the first show the new director, Ms. Rund, led. After the challenges of preparing the show, 'Legally Blonde' was viewed by hundreds in the auditorium throughout the weekend.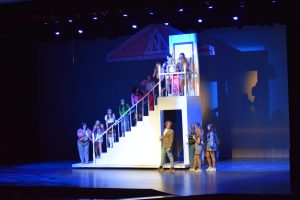 "I think it was good for what it was," McCaskill said. "It's a lot harder with the new director this year, but I think she's doing great, and it's been fun." 
   Performance is a unique form of art and one that requires hours of practice and skill. Many students find entertainment in not just watching a show, but also helping to put one on.
   " I love performing in musicals," Weger said. "Not a lot of people can go up on a stage and sing their hearts out to hundreds of people and that is the thrill of it as well."