Setting the pace
Pacers fans pleased with recent results, optimistic for the future.
   Despite being projected to finish near the bottom of the Eastern Conference in the National Basketball League, the Indiana Pacers have strung together a 6-1 record in the month of November, placing them right in the playoff mix. After closing out a brief two- game road trip, the Pacers came home to take a 123-102 victory over the Orlando Magic on Nov 22, bumping their record up to 10-6.
   For a fanbase that has been subject to sub-par basketball in the last few years, this year's team has become a pleasant surprise.
   "I have been extremely pleased," senior Jack Johnson said. "Our team got rid of every player from our last playoff team and has still seen early season success. I think every Pacer fan was expecting a rough season, but sitting fourth in the east is giving everyone hope."
   Speaking of new players, the Pacers' roster this season features many new faces, including two experienced veterans that they picked from a trade with the Sacramento Kings: Buddy Hield and Tyrese Haliburton. In particular, Haliburton has stepped up his game, averaging about 20 points and 10 assists per game, the latter being the best in the league at any position.
   "He plays well as the leader of the team," McCord said. "He also shows that he can make other players better at the same time." senior Jackson McCord said.
   Along with players picked up from other teams, the Pacers have also made the most of their recent draft picks, picking up a variety of young talent, including Isiah Jackson, Andrew Nembhard and most notably, their 2022 first-round pick out of Arizona, Benedict Mathurin.
   "Mathurin may be a rookie, but he has played at a high level through the first 14 games," McCord said. "I'm looking forward to seeing what he can do for us in the future."
   While getting off to a hot start is great, there is still a lot of basketball left to be played before the playoffs roll around. Even though the Pacers have not made a post-season since 2020, Johnson believes they have a chance.
   "I think this young core has a good chance to keep up the good play and make the playoffs," Johnson said. "If we keep it up, I can definitely see our success continuing."
   McCord, on the other hand, believes that the team might not be there just yet, but added that missing out might not be a bad outcome.
   "I think we will be a solid team this year, but I am not sure if we will make the playoffs or not," McCord said. "It would not be bad to lose more, because in return we could gain a good draft pick."
Leave a Comment
About the Contributor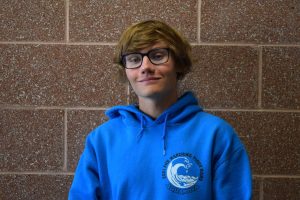 Alex Duer, Reporter
Alex is a Senior at Fishers High School. Alex is a member of the band program and participates in unified sports. This is his first year on staff.