Methods to the madness
The preparation that goes into the yearly high-stake tournament
    Each year, 68 division one collegiate basketball teams get selected for the National College Athletic Association (NCAA) Tournament in order to declare a yearly champion. Nicknamed March Madness for its influx of close games, buzzer-beaters and Cinderella stories, there is much more that goes into the preparation for the four-week dogfight. From the non-conference tournaments, the level of conference play and the impact of hitting the reset button affects a team's tournament performance. However, the NCAA Tournament is not the only postseason basketball being played the National Invitation Tournament (NIT) and the College Basketball Invitation (CBI) also give collegiate teams and players an opportunity to continue their season. 
    Former Butler University and Wright State guard Chrishawn Hopkins has experience in each tournament, playing in the NCAA Tournament, CBI and the now-defunct College Invitation Tournament (CIT). 
    "[At] Butler, playing in the NCAA Tournament was [the start] of a whole new season," Hopkins said. "[After] winning the Horizon League championship, you are on a high horse. Then it starts all over and you have to come back to Earth and refocus on the new season ahead." 
    A refocus prior to the tournament is often the difference between winning and losing. Former Xavier University assistant coach Mike Pegues was a part of many different outcomes when coaching the Musketeers. In 2015 and 2017 he saw his team lose in the round of 32 as a two seed and one seed, respectively, but in 2014 and 2016 he coached his team to the Sweet 16 and Elite 8 as a six and eleven seed, respectively. 
    "Our guys knew they could win," Pegues said. "We believed in ourselves and in our system. We played in a tough league and beat good opponents which gave us a ton of confidence. Those two years [as the one and two seed] we were really good, it was just different being the hunted and not the hunter."
    Like Pegues with Xavier, continuing to refocus amidst the excitement of March is what helped Hopkins and Butler to their second consecutive championship appearance in 2011. 
    "I see myself as a great teammate so I always cheered the [rest of the team] on no matter my playing time," Hopkins said. "When they were playing really well, the whole team was playing well. So, I just followed their lead and when my name was called I was ready to go. [In the game against Florida] the whole momentum had changed when I had the assist to Matt [Howard] and then hit the three. It was the best experience I have ever had." 
    Hopkins' moment would soon grow bigger the following season when Butler was in the CBI. Despite the stage being smaller, he did not back down from the occasion.
    "Every time I stepped on the court I wanted to succeed and win, so that was always there," Hopkins said. "There was more [pressure] on me because I was the starting shooting guard and had a bigger scoring load than the year before." 
    For former Butler and George Washington guard Paul Jorgensen, the difference between the tournaments is all about the mentality going into it. 
    "The NIT is obviously a great tournament," Jorgensen said. "We just did not have the excitement that you have playing in the NCAA tournament which is a once-in-a-lifetime opportunity." 
    Former Butler and St. Bonaventure guard Jordan Gathers had two different experiences with the tournament. With St. Bonaventure, he was the starting guard of an underdog squad, while on Butler he was a backup for a team with a lot of expectations. 
    "Whether I played 30 seconds or 30 minutes, the work and routine stayed the same," Gathers said. "I admired Kobe Bryant's work ethic and his preparation and approach to basketball." 
    Gathers and St Bonaventure were close to an upset win over Florida State in the 2012 opening round that saw Gathers secure six rebounds and shoot 50 percent from the field. 
    "[Up six at halftime] you are on a high, but still know there are 20 minutes left to play," Gathers said. "The odds were not in our favor, so it is cool when the underdog is on top. All teams in the March Madness did many right things to play in the tournament, we just believed in ourselves and our teammates."
    Before coaching a Cinderella story, Pegues was also a Delaware University forward who led his team in scoring and rebounding in a close loss against Tennessee in the 1999 tournament as the 13 seed. 
    "In my junior year, we knew we were ready to win in the tourney," Pegues said. "Unfortunately we had some issues and did not play well, but we were ready and excited to compete with each other because of the previous season [losing to Purdue as the 15 seed]."
    One thing many teams do right is competing in non-conference tournaments where teams play three or more games in the same amount of days to help prepare for March. 
    "Those games are huge," Pegues said. "If you win those early matchups it takes some of the pressure off to win every game in league play." 
    The early season tournaments can only prepare you so much for the biggest amateur sporting event on Earth. 
    "The [non-conference tournaments] did not help," Jorgensen said. "March is a whole different beast, you cannot prepare for March. The only thing you can do is be a great team and have some luck." 
    Since many of the tournaments are held at luxurious vacation destinations such as the Bahamas, Jamaica and Montego Bay, it can allow for team bonding during the trip. 
    "Those non-conference tournament games are critical to building your team and learning to play together," Gathers said. "You have to adapt and adjust to the environment and make a play. I recall having a few games we played in that we came up short, but it helped us later become Atlantic 10 champions for the first time in St. Bonaventure's school history. [You must] dream big and dream often."
Leave a Comment
About the Contributor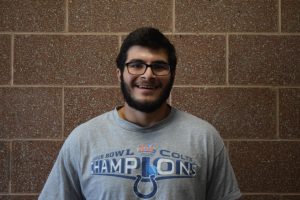 David Jacobs, Reporter
David Jacobs is a senior at Fishers High School and is a reporter for the Tiger Times. He plays football and throws shot put/discus for track.