Paving the way
How JEL students are preparing for their careers
J. Everett Light (JEL) career center has been an exciting option for high school students since it opened in 1972. It now offers numerous career certification courses in medicine, mechanics, culinary arts and more. At the height of second semester, JEL students are preparing to jump into their careers following graduation. Senior Abby Bhangu is in the dental assisting program at the JEL campus at North Central High School.
    "After this year ends, I can work as a dental assistant, which is really exciting," Bhangu said. "After I take this radiation exam, I am able to earn my certificate for taking x-rays."
    Certification tests at the end of the year will determine whether students are able to work in their field of study. Although these tests can be stressful, Bhangu feels prepared.
    "It is a really hard exam," Bhangu said. "But overall the class supports you, the teacher helps you and she gives you all the resources that you need to take the exam." 
    According to the JEL website, in 2019-2020, over 750 JEL students earned more than $992,000 in college dual credit. Junior Ru Al-Delfi is in the certified nursing assistant (CNA) program in order to work and earn college credit. 
    "We have had a lot of hands-on experience, especially with clinical," Al-Delfi said. "Through clinicals, I have gotten a job at Hamilton Trace already before taking the state exam." 
    For many students, JEL is a stepping stone to the careers they want to pursue in the future. Both Bhangu and Al-Delfi are pursuing certifications in fields that they eventually want to get degrees in. 
    "My plans after high school are to attend a four-year nursing program and go work in an emergency room (ER) or trauma unit," Al-Delfi said. 
    Bhangu said that she wants to attend dental school after she graduates. She will work as a dental assistant during college. 
    "I am still deciding what specialty I want to go into so that's why I chose dental careers," Bhangu said. "I recommend this program to anyone in the future if it's still available, it is a great program if you want to get hands-on experience and you wanna learn more things. It is great for your career."
Leave a Comment
About the Contributor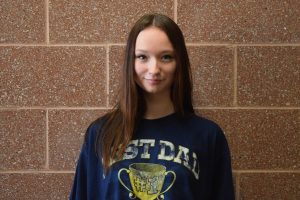 Mia Brant, Reporter
Mia is a senior at FHS and enjoys ballet and working outside of school.