Something to root for
Colts have promising future after a great 2023 draft
    After a week of really letting the Colts' draft picks soak in, I can finally say that I am excited to root for this young Colts team next year. After a 4-12 finish last season, owner Jim Irsay knew it was time for change and general manager Chris Ballard delivered. The first step in this treacherous process was cutting the losses with quarterback Matt Ryan which according to SpoTrac cleared 17.2 million dollars of cap space. With the added cap space, Ballard made some key free-agent signings. He signed the following players: defensive end Samson Ebukam to a three-year 24 million dollar contract, defensive tackle Taven Bryan to a one-year 3.5 million dollar contract, kicker Matt Gay to a four-year 22.5 million dollar contract, wide receivers Isaiah McKenzie and Pharaoh Brown to one-year one million dollar contracts and back up quarterback Gardner Minshew to a one-year 3.5 million dollar contract. There is no superstar free agent signing that will make headlines, nonetheless the Colts lock up one of the best kickers in the league in Matt Gay, get veteran insight into a young wide receiver group and beef up the defensive line depth with Ebukam and Bryan. Although Ballard let starting linebacker Bobby Okereke and wide receiver Parris Campbell walk in free agency, he was able to retain linebacker EJ Speed and wide receiver Ashton Dulin for cheaper contracts. Keeping the positions of need in mind, in a make-or-break draft for Ballard and his war room he delivered his best draft to date since taking over in 2017. 
    In the first round, the Colts selected their franchise quarterback Anthony Richardson from Florida University. Admittingly, I would have preferred Ohio State quarterback CJ Stroud over Richardson, but with the Texans trading up to get both him and Will Anderson, I can live with it. Richardson is the most athletic quarterback prospect since Cam Newton all while being 6'4" and 245 pounds. The raw athlete did not have any sort of impressive aerial stats while playing in Gainesville, but rushed for 1,100 yards on just 161 carries for 12 touchdowns in his career. According to NFL.com, the 20-year-old prospect ran a 4.43 40-yard dash, jumped a 40.5-inch vertical and a 10'9" broad jump at the combine in March. Although you cannot judge a quarterback's career projection based on athletic feats alone, we have seen it happen before with Josh Allen. At Wyoming, Allen owned just a 56% completion rate and he has found plenty of success hovering in the low 60% range for the past two seasons of his career. I am not saying Richardson will become Allen overnight, but he will be surrounded by a good supporting cast in Indianapolis. He joins a backfield with All-Pro running back Jonathan Taylor and has emerging weapons around him. He will also have Pro Bowl and All-Pro caliber lineman Quenton Nelson and Ryan Kelly protecting him as well as progressing anchor Bernard Raimann. On the opposite side of the ball, the Colts return All-Pro talent in Deforest Buckner, Shaq Leonard, Grover Stewart and Kenny Moore and have a young supporting cast that is only getting better. It is hard to make unbiased predictions as a fan of the team, but taking a step back I feel like anyone can see there is something special brewing in Indianapolis. I understand they had just four wins, but they were without Taylor or Leonard just about every game and had a glorified statue in Matt Ryan running the offense. Give this team, and this new coaching staff, a year of health from the stars and I cannot be convinced that at the very least they will not be competitive and in the hunt throughout the season.  
    Jumping to the second round of the draft, Ballard started day two as he has been known to do by trading back to get more draft capital. With the 44th overall pick, Ballard was able to take Indianapolis native, cornerback Julius Brents. The 6'3" ballhawk measured in with an incredible 6′ 11" wingspan and will pair up excellently with Kenny Moore and Isaiah Rodgers in the secondary. According to PFF, Brents took the majority of his snaps at the traditional perimeter corner for Kansas State but did come up all the way to the trenches on 70 snaps and showed some versatility by taking 20 snaps in the box as well. This is a homerun selection by Ballard and a great young addition to the defense. Brents will likely be a day-one starter and add to an already top defensive unit in the league. 
    Now onto the third round is where the real value-picks begin. After allegedly trying to trade up to get him for 30 minutes, Ballard was still able to get wide receiver Josh Downs with the 79th overall pick. I have not been this excited for a mid-round selection since former GM Ryan Grigson took TY Hilton to pair up with Andrew Luck in the 2012 draft. Similar to Hilton, Downs is a smaller receiver at just 5'9", but reeled in 11 touchdowns and 1,100 yards from his slot position at North Carolina. He jumps 38.5 inches and comes down with just about any ball that comes his way, catching an impressive 72% of contested catches this past season. As previously mentioned,  Richardson will now have his choice of Michael Pittman Jr., Alec Pierce, Josh Downs or Jelani Woods to throw to on any given pass play. It may not be the best receiver room in the league, but a young group that can grow and learn with Richardson is a good group to throw to on day one. I initially had Downs going 30th overall to the Eagles in my mock draft. To say this is a steal is an understatement, this is high-way robbery at its finest. 
    With the remaining nine picks Ballard took offensive tackle Blake Freelund, defensive tackle Adetoniwa Adebawore, cornerback Darius Rush, safety Daniel Scott, tight end Will Mallory, running back Evan Hull, linebacker Titus Leo, cornerback Jaylon Jones and offensive tackle Jake Witt. In prototypical Chris Ballard fashion, each of these guys are freakishly tall for their position, hyper-athletic or a combination of the two. Although I do think all of these guys will be making the active 53-man roster come the regular season, not all of them will be in the rotation per say. The four guys I think will be either in the rotation or competing for a starting role that I would like to highlight are Freelund, Adebawore, Rush and Mallory. 
    Starting with Freelund, the 6 '8" offensive tackle gave up just one sack in his three-year career at Brigham Young. He ran a 4.98 40-yard dash at 302 pounds and set a combine record for vertical jump by an offensive lineman with a 37-inch leap. The third-team AP All-American will at the very least give us depth at the position, if not compete for a starting role on the offensive line. As of right now, the Colts have three spots locked up in left guard Quenton Nelson, center Ryan Kelly and right tackle Braden Smith. With Bernhard Raimann likely winning the left tackle spot as he did last year, Freelund seems to be the odd man out, being incapable of playing guard. However, Braden Smith came into the league as a guard, and the position he started at in week five against the Broncos this past season. It is not impossible to think Freelund could insert in and start at right tackle while Smith slides over to fill the gap at right guard. Another option would be versatile lineman Danny Pinter getting the nod at right guard. Pinter has gotten starts at center and right guard in his NFL career and played tackle at Ball State. The last option for right guard is to sign one of the veteran free agents still available such as Dalton Risner, Michael Schoffield or Trai Turner. Whichever route new offensive line coach Tony Sparano Jr. goes with, he will hope the unit he puts on the field plays better than they did last season. 
    Moving on to Adentoniwa Adebawore, he is the most intriguing prospect in this group of draftees. The 6'2" 280-pound defensive tackle lined up all over the line for Northwestern on his way to six sacks and 22 hurries this past season. He ran a blazing 4.49 40-yard dash, which is the fastest the combine has seen for a 280-pound athlete in the last 20 years. Although Adebawore will likely not get the starting nod in a cramped defensive line group, he will most definitely get a healthy amount of snaps in the rotation coming in to give Buckner, Stewart or Kwity Paye a breather. This Colts defensive line group broke the team record for sacks last season and with the additions of Adebawore and Ebukam I really like the chances of topping that number once again. 
    Adding to the previously mentioned secondary is cornerback Darius Rush. Along with second-round pick Julius Brents, Rush could very easily be a day-one starter for this young defense. According to CFBReference, the 6 '2" cornerback had three interceptions and 15 pass deflections in his two years starting at South Carolina. Recruited as a wide receiver, Rush is still learning the position but has shown versatility in his alignment taking snaps in the slot, box, safety and of course his primary position of perimeter corner. The 6'3" defender ran a 4.36 40-yard dash at the combine and at the very least will be joining the active rotation in the secondary. 
    For the last of the mid-round spotlights, tight end Will Mallory is a fascinating addition to the offense. For a team that has three competent tight ends in Jelani Woods, Kylen Granson and Mo Allie-Cox, it is odd to add Mallory to the mix. However, Allie-Cox has appeared to be on his way out leading up to the draft and Granson has been schemed out of the offense ever since Frank Reich was fired. I am not expecting Mallory to start amongst the competition, but the 6'5" Miami draftee ran a 4.5 40-yard dash to pair with his 36.5-inch vertical. At the very least he will give a wake up call to the others in his position group to step up, or could very well be used as more of a receiving threat like Travis Kelce, as opposed to the traditional tight end like Allie-Cox and Woods. 
    Now I know the Colts are not anywhere near a Super Bowl, nor will they necessarily make the playoffs, but with this much promising talent, I just hope for more than four wins. But if there will be a surprise team in the playoff hunt come week 14 or so, do not be shocked if the Colts end up figuring things out and making the push to the playoffs. 
    Now I know predicting the week one starters is near impossible to do with so many training camp battles, potential free agent signings and departures yet to play out. With that being said, here are my predicted line-ups for week one with asterisked players being captains:
Offense
Quarterback: Anthony Richardson
Running Back: Jonathan Taylor*
Wide Receiver: Michael Pittman Jr.*
Wide Receiver: Alec Pierce
Wide Receiver: Josh Downs
Tight End: Jelani Woods
Right Tackle: Blake Freelund 
Right Guard: Braden Smith
Center: Ryan Kelly
Left Guard: Quenton Nelson*
Left Tackle: Bernhard Raimann
Defense
Strong Safety: Julian Blackmon 
Free Safety: Rodney Thomas 
Cornerback: Kenny Moore*
Cornerback: Isaiah Rodgers 
Cornerback: Julius Brents 
Outside Linebacker: EJ Speed
Middle Linebacker: Shaquille Leonard*
Outside Linebacker: Zaire Franklin*
Defensive End: Kwity Paye
Nose Tackle: Grover Stewart 
Defensive Tackle: Deforest Buckner*
Defensive End: Samson Ebukam 
Special Teams
Punter: Rigoberto Sanchez
Kicker: Matt Gay
Long Snapper: Luke Rhodes 
Kick Returner: Dallis Flowers
Punt Returner: Josh Downs
Leave a Comment
About the Contributor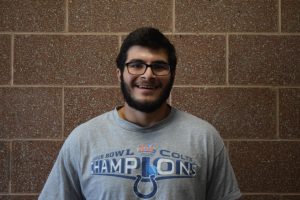 David Jacobs, Reporter
David Jacobs is a senior at Fishers High School and is a reporter for the Tiger Times. He plays football and throws shot put/discus for track.