South Africa student destination for break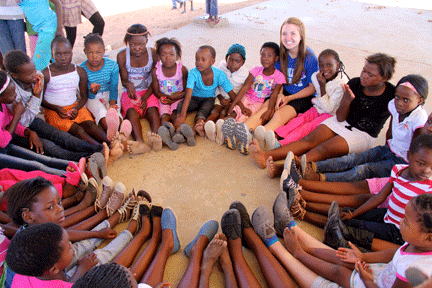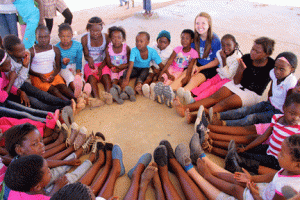 Leaving for the airport at 3 a.m., student and adult members of Northview Christian Church prepared for an 18 hour flight to a village in South Africa called Sekgopo. A group of 22 church members left on March 29 and returned to the U.S. on April 7.
Seniors Kailey Sullivan and Courtney Thompson both traveled with the church. This was Thompson's second year going and Sullivan's first. Sullivan expressed an interest after Thompson had shared stories about a previous trip to South Africa.
The cost of the trip was $3,000 which Sullivan raised by a combination of a job, support letters, and a contribution from her parents. Overall, it took her five months to raise all of the funds for the trip. Also, she had to get immunizations for diseases like hepatitis, tetanus, typhoid and malaria.
"Seeing [their lives], especially as an American was humbling beyond belief," said Sullivan. "They possess a lot of things that we in America lack because we are all consumed with material things. The kids [in Africa] know what it means to loved by someone; we take having people always there to take care of us for granted."
Northview Christian Church works with an international organization called Horizon International. Thompson said that Horizon is a different type of organization because they do not try to force ideas and values on the people, but rather try to work alongside them.
Last year, Thompson went on this same trip and because of her passion towards Africa and some of the strong relationships that she built, when presented with an opportunity to go back, she knew that she had to go.
During their stay in Africa, members of the church talked through the story of Joseph and how it related to the lives of the orphaned teens that had been abused or outcast. The group also played games, acted out Bible stories and did a craft each day.
For Thompson, the thing that left the greatest impact on her was a little girl. Thompson had seen the child eyeing her, so she went over to her and picked her up, tickled her and kissed her on the cheek. According to Thompson, the girl's face then lit up and kissed her back, calling her "mom." Thompson said it has been one of the most difficult things that she has had to process from this trip.
"I would love nothing more than to spend the rest of my life [in Africa]," said Thompson. "I believe that everyone has something that they are meant to do and when I am in Africa I know there is no where else I need to be."