Short plays not short on preparation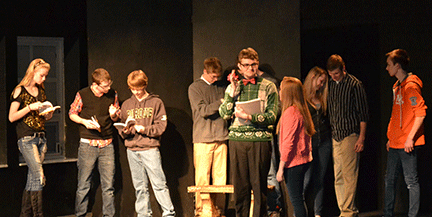 Betweenauditions, memorizing lines, practicing and putting on the final production, being part of a play can be a nerve wracking experience. For some of the students that are a part of the upcoming one-act plays, it is their first time experiencing the process of a theatrical production."There are some people in this cast that have never been on stage before," said theater teacher Jon Colby, who is in charge of the plays. "So you'll see some faces that are different from the people who are usually in the school's productions."The students started practicing before winter break to improve their blocking, or movement on the stage, and memorizing their lines to perform at their peak when the plays premiere.The one-acts have not been a small task for Colby, either. He has directed practices with the students three days per week since Two 30-minute plays will be performed,  one which had been previously written and another that he wrote himself.
The students have been rehearsing three times a week for the entire month of January, and this commitment will increase to five days a week in the days before opening night.
Colby says that his goals for the plays are for the performers to be a part of the creative process and for many people to come and see the show to see the fruits of all of the hard work that the students have put in.
The final product will come on Feb. 8 and 9 at 7 p.m. in the black box theater.