Riley Sports Week raises money and awareness
"
 "I think it's really important," she said. "You have families and kids there that really need help.""
Students are anticipating a week of spirit days and sports leading up to the Riley Dance Marathon.  This is a special week designed to raise money for Riley Children's Hospital, a non-profit hospital for children.
According to student government representative Marlee Jacocks, the goal is to raise $25,000 for Riley.   During Riley Sports Week, there are sports events planned everyday after school.  Monday is basketball at 6 p.m., Tuesday is volleyball at 6 p.m., Wednesday is a fashion show at 6:30 p.m., Thursday is Wintertainment at 7 p.m., and Friday is the pep rally at the end of the school day.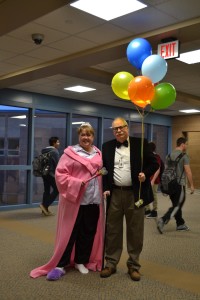 "There's usually a good turnout of kids that participate in the after school events," she said.
 Each day of Riley Sports Week is a spirit day where students can dress up to support Riley. Monday is Olympic day, Tuesday is  favorite character day, Wednesday is farmer day, Thursday is sweater vest day, and Friday is FDM (Fishers Dance Marathon) spirit day.
Riley Dance Week is organized by the student government.  They have many methods of raising money for Riley. During the sports events, they pass around a jar to collect money.   Jar Wars is also another fundraiser the student government has coordinated.  Students put money in different teachers' jars, right outside of the cafeteria. The teacher with the most money in his or her jar has a pie thrown at their face.  Even the money students pay to sign up for Riley Dance Marathon goes towards Riley Children's Hospital.
Jacocks said that planning fundraisers is challenging, and it is a long process to get the fundraisers approved by administration, let alone come up with all of the ideas.
Despite these difficulties, Jacocks said Riley Sports Week is usually a success.
"I think it's really important," she said. "You have families and kids there that really need help."