New small lockers are seen throughout the school
Rebekah Hern- When students started the school year, they were expecting to have full-size lockers, but some found themselves with half-lockers. These lockers were put in because the school had run out of room for incoming freshman.
As seen around the school, the red half lockers had been used up, including the ones by the gymnasium. The new lockers were a trial for the Career Academy.
"With having these lockers, the feedback has not been great."  assistant principal Ryan Taylor said.
New lockers have been ordered to replace the small grey lockers. The new ones will be replaced starting second semester.
"The new lockers will be a lot better and I think the students will enjoy them." Taylor said.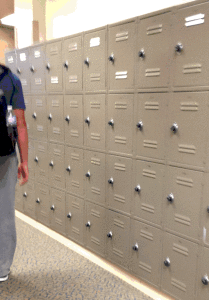 The school used the space they had to put the small lockers in . Safety guidelines had to be followed.  They could not just put them anywhere. Since the lockers are smaller, some students may be having problems organizing their lockers due to the space issue. There can be tips found from anywhere.