Headless horseman helps girls basketball pay bills
Ryan Ahler- The girls basketball team worked at the Headless Horseman event at Conner Prairie on Sat. Oct. 11 in order to raise money for their upcoming season.
"We enjoy getting the players outside the gym and getting the parents together to bond and get to know each other better while giving back to the community," girls basketball booster club member Kim Sugg said.
Seven players and 10 parents worked all over Conner Prairie from selling food and hot chocolate to face painting. Shifts lasted from 5:00 p.m. to 10:30 p.m., and afterwards, all of the people who worked also received a free ride on the Headless Horseman ride.
100 percent of the money raised is going back to the team which adds up to $500.
"The fundraiser will help pay for the extras that the boosters provide for the girls. The Christmas party, granola bars for before games and locker room signs," Sugg said.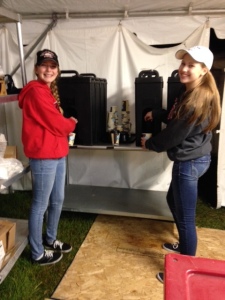 The Girl's basketball season begins on Nov. 11.