Minecraft Club draws students in
Emma Russell– Minecraft. A game that first started out as just breaking and building blocks quickly expanded across the globe and into our own school. This club was first created in 2012 by a group of students that had a common interest in this game and has been thriving ever since. They looked to math teacher Steven Curtis who has been the club sponsor since it has begun.
"Although I had never played Minecraft, I was willing to help sponsor the club to give the students a chance to play the game with their peers in the same room.  We had a callout meeting and quite a few people showed interest," Curtis said.
Minecraft was first created by a Swedish programmer named Markus "Notch" Persson but was later taken over by the company Mojang. Minecraft is now available on all Apple, PC, Android, X-Box, Playstation and Windows products. This club uses the PC version to play and work on all their projects and meets every Thursday in computer lab B133.
This club plays on both survival and creative mode in the game depending on what they are working on. In survival mode, the character starts off with nothing in a world and must learn to fend for themselves by creating tools, houses and finding resources on the map. Whereas in creative mode they are free to build what ever they think of with any resources on the map.
"Members compete in a variety of custom matches and collaborate on different build projects.  One of the build projects includes a replica of the school which they are currently working on," Curtis said.
To find out more about Minecraft and purchase it yourself check it out here.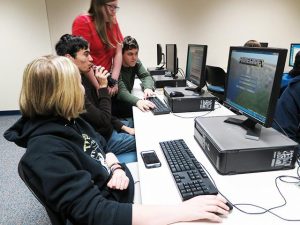 and for more information on the club contact Steven Curtis at [email protected].