Senior Blog: Volunteer graduation cords easy to earn
Maria Pavy– An easy way to receive recognition at graduation is by filling out volunteer forms. Graduation hours must be turned into the Guidance Office by May 1st, and it only requires 15 hours of volunteer service from either the summer or the school year. Completing the forms and doing the service allows seniors to receive distinction at the graduation service.
Being involved with National Honors Society has allowed me to not only volunteer for the club, but to also record my volunteering hours to be used for the volunteer recognition. If a senior is involved in Key Club or National Honors society, this recognition is easy to receive.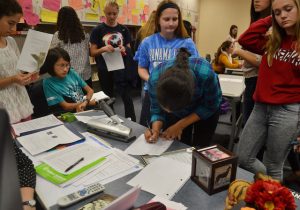 The graduation hours must be verified by a school sponsor or a sponsor from a non-profit organization. Places that do not count is babysitting (unless it was for free), being a Camp Tecumseh counselor or any yard work other than for an organization like Third Phase or others.