Best Buddies club to participate in Friendship Walk
Reily Sanderson– Best Buddies is walking for a good cause; the Best Buddies Friendship Walk is on April 26 at White River State Park and the NCAA Hall of Champions. The Best Buddies club will be participating in the walk. Students do not have to be in the club in order to participate in the walk.
"The main purpose of the walk is to promote and provide opportunity for inclusion of all people, especially those with intellectual and developmental disabilities," sponsor of Best Buddies and English teacher Hedy McGrath said.
The 5k competitive run and walk  starts at 10 a.m. outside the NCAA Hall of Champions; the non-competitive walk which is 2.6 miles will start at 10:15 a.m. at the same location. Volunteers and staff will direct participants to the correct place the morning of the race.  Information about prices and parking for the walk can be found here: http://www.bestbuddiesindiana.org/faf/help/helpEventInfo.asp?ievent=1124901&lis=1&kntae1124901=5E33546088684AAC878C661888F406C0
"I think its a really good idea that kids with disabilities get to have a walk dedicated to them," sophomore Isis St. James said.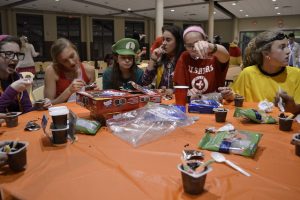 Proceeds from the walk goes towards funding state programs that provide one-to-one friendships, leadership development and integrated job opportunities for people with intellectual and developmental disabilities.