Madi Calvert – With the last full concert of the season, the students who participate in band show off the pieces they will be playing at the Indiana State School Music Association, or ISSMA.
Playing pieces like "Inglesina" by David Delle Cese, "Dusk" by Steven Bryant and "Variations on a Korean Folk Song" by John Barnes Chance, the band displays the skills they will use at the upcoming competition held at Pendleton Heights High School.
"We've put in a lot of practice time and rehearsal to make this concert the best it can be," freshman Mike McKeever said.
The band practices every day during class and some take private lessons or practice outside of school in order to improve their playing skills for concerts like this one.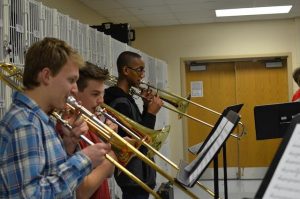 In order to help support the Civil Air Patrol, the band is collecting non-perishable foods at this evening's concert, which begins at 7 p.m. To get more updates from FHS band, visit twitter.com/tigerband06.