Senate Bill 101 signed into law
Mo Wood– Mike Pence took the office of governor of Indiana on Nov. 6 2012. He has done many things for the state of Indiana, like lowering taxes and building new roads and bridges to fulfill the state's status as "The Crossroads of America". Recently, he has signed the Senate Bill 101, or the Religious Freedom Restoration Act.
Nineteen states have the Religious Freedom Act; Texas, Missouri, Florida, Arizona, New Mexico, Oklahoma, Kansas, Pennsylvania, Connecticut, Rhode Island, Idaho, South Carolina, Virginia, Kentucky, Louisiana, Mississippi, Alabama, Illinois (President Barack Obama signed the Illinois version of the bill when he was a senator there.), and now Indiana. Though each state has different entailments, they all have the same message, business owners can use their religion as a defense in court.
The Indiana bill was approved 40-10 on March 26. The whole democratic side of the house voted no along with five republicans. The bill and it's signing has been controversial, and most opposers of the bill say it takes away the rights of the LGBT community.
"Under the law it protects religion, which is a choice and gender which you are born with. So no matter if you believe sexual orientation is a choice or you're born that way it fits under the criteria that is already in the bill," freshman Emma Clemenz said.
Many groups and individuals  have stood out against the bill like horror author Stephen King, Colts head coach Jim Irsay, former pacer Reggie Miller, actor Harvey Fierstein, talk show host Larry King, Miley Cyrus, author John Green, Colts kicker and radio host Pat McAfee, actors George Takei and Ashton Kutcher, and even Apple CEO Tim Cook.
Gen Con is one of the largest attended conventions in Indiana, it attracted 56,000 people last year and had over a $50 million impact on the economy, and threatened to move the event somewhere else if Pence signed the Religious freedom bill.
The president of the NCAA, Mark Emmert, also made threats to Pence during the final four, like moving their headquarters from Indianapolis and threatened future events.
The Eli Lilly & Co and Cummins spoke out against the bills effect on businesses, Walmart and Apple have made statements about legislations like SB 101 in other states about how the bills will undermine other civil rights laws and hurt the business climates of the states who had passed it.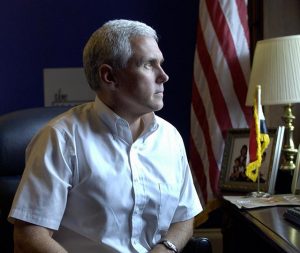 Although the message is the same in the Indiana bill as it is in the 19 other states', Indiana has received the most attack. The rewording of the bill is now in question.