Students able to launch new clubs of their own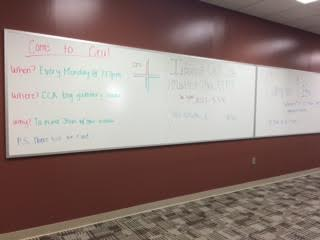 In the past two years, students have started Pinterest Club, Hurling, Dodgeball, Chess Club, Filmmaker's Workshop, Digital Music Production and others. Any student can start a school-appropriate club based on their hobbies or interests.
In order to start a club, students must submit an application to assistant principal Ryan Taylor in the main office.  The application includes information such as a title and description of the proposed club, maximum number of participants, the educational goals and objectives of the club, and special events it may involve; forms can be found in the main office. All clubs also need a staff member sponsor.
"I always encourage kids to really recruit their teachers. . . our staff is getting bigger, and they have a variety of interests, so that works out really well," Taylor said.
There are over 70 clubs listed on the school's website Some of the less-known clubs include K-Pop, French Braiding, Friendship Bracelet, Philosophy, Ping Pong and Minecraft. The full list of clubs can be found on the school website.
"We have almost 3,200 students, so you're going to have every type and walk of life and all of these different interests, which is really what makes Fishers cool. We just have a diverse background," Taylor said.