Art Club designs haunted house for All Treats No Tricks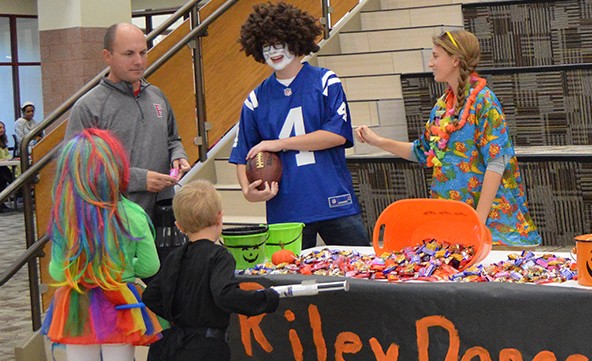 by Jon Edwards, Guest Writer
Headed by 3d art teacher Danielle Ontiveros, The Art Club organized a Halloween themed fundraiser to raise money for Riley Children's Hospital called 'All Treats No Tricks'. 'All Treats No Tricks' was an event from 5:30 pm to 7:30 pm on Oct. 17 that contained a haunted house, book vendors, free candy, and games for children to play. For two hours 'All Treats No Tricks' accepted dozens of families for a five dollar entrance fee.
"The goal of 'All treats No Tricks' was to raise money for "Riley Families" in need of money as well as to offer a safe environment for local children to celebrate and receive candy," Ontiveros said, when asked about the purpose of the event.
All events at 'All Treats No Tricks' were monitored and ran by students and teachers clad in Halloween costumes and masks. The Art Club had spent the last month and a half constructing a haunted house to be used by young children in the event; it was built from large Cardboard boxes cut into "flats". The flats were then decorated using acrylic paint transforming them into Halloween themed facades, walls, and scenes. Once assembled properly the flats formed an impromptu haunted house.
"It's a great cause and I love kids so next year I really recommend no matter what club or sport you're involved in, or if you are not in one, to get involved," junior Art Club President Carson Henley said.
Although organized by The Art Club many other school organizations, clubs and athletic teams were integrated into the fundraiser. These groups had their own tables from which they passed out candy and played games with the kids. All together $920 was raised for Riley Children's Hospital.
"It was a success for sure, the only thing to do from here is to get more families and students involved next year and hopefully bring in even more money for Riley," Ontiveros said.