Pride and Prejudice and Zombies, totally brainless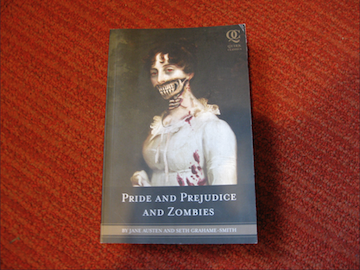 Mo Wood, Social Media Editor
February 9, 2016
Upon my first hearing of "Pride and Prejudice and Zombies," I was greatly offended. "Pride and Prejudice" is a classic novel and one of my favorites, and zombifying it seemed like an injustice to Austen and her novel. In the end, the film did not hold a candle to the original novel.
The storyline was warped, the five Bennet girls were trained in martial arts and encouraged by their father to hunt zombies, and Mrs. Bennet staying true to her original silly character, only wants the girls to marry rich men. Mr. Bingley and Jane still hit it off, Mr. Darcy and Elizabeth still enter a love-hate relationship, but the worst part of the movie, Matt Smith, of "Doctor Who" fame, plays the sickeningly dreadful Mr. Collins.
That was my biggest problem, it was so hard to see Smith bumbling around as Mr. Collins, my least favorite character in the original novel and this movie. They go on to face off against zombie sympathizers who want to unleash the living dead upon the walled city of London.
The movie was nothing special really, it is not memorable in the sense that most of today's media is post-apocalyptic and zombie filled, it is far too similar to "Abraham Lincoln: Vampire Hunter" in the sense that it seems like no one tried.
"Pride and Prejudice" was a great novel, and the BBC mini-series was phenomenal, but this new interpretation was very lackluster. I would give it one katana out of five.