Shia LaBeouf live-streams new performance art piece; "HE WILL NOT DIVIDE US"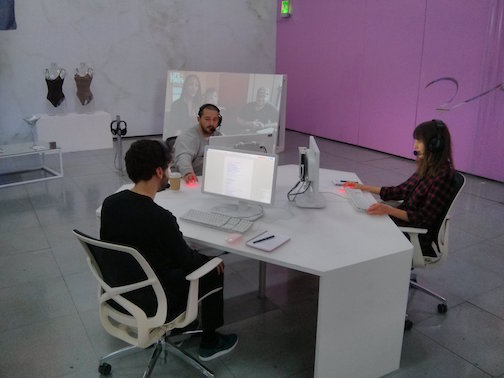 Actor and performance artist, Shia LaBeouf, began a new project entitled "HE WILL NOT DIVIDE US" on January 20, 2017 that will span the duration of Donald Trump's presidency. LaBeouf's project is an anti-Trump live stream instillation piece that consists of a camera live streaming a wall that says "HE WILL NOT DIVIDE US" outside the Museum of Moving Images in Queens, New York.
"What [LaBeouf] is doing is really cool, I completely support his project and the overall movement. It is documenting history in a very raw and uncensored way that I think will effectively summarize the Trump Administration. I just wish there was something like this locally so that Hoosiers could participate in it as well,"  junior Blake Robinson said.
Since the project's launch, there have already been several altercations, with only a few resulting with police intervention. LaBeouf himself was arrested and charged for a misdemeanor after an altercation with a citizen shouting anti-Semitic slurs at the mural. The New York Police Department has stated that they will continue to protect the project throughout the Trump Administration, this following Trumps threat to cut off federal funding from sanctuary cities.
"I don't really understand what point he's [LaBeouf] trying to prove; it just seems really stupid to me. This isn't going to change the fact that Donald J. Trump is the President of the United States. If [Democrats] actually want to change something then they should be preparing for midterms, not painting silly phrases on walls and calling it a 'movement'," senior Jakob Poore said.
LaBeouf is collaborating with fellow artists Nastja Säde Rönkkö and Luke Turner, who say that the project is open to anyone 24 hours a day, 7 days a week. They are inviting fellow Americans to venture to the mural and say "He will not divide us" for as long as they please as a sign of resistance towards the Trump Administration.