Media center challenges students to month of reading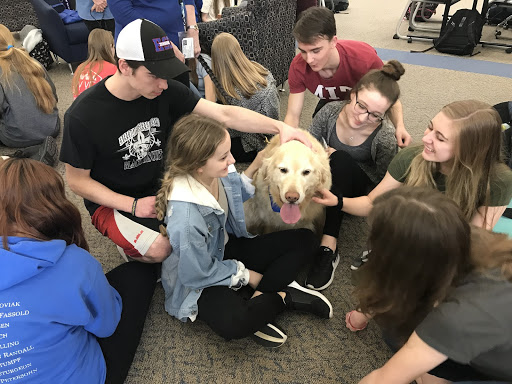 FHS Reads presents students with month-long March Madness events to spark reading in students again.

Library Media specialist Renee Isom and senior intern Sydney Greenwood put together events for the student of FHS throughout the month of March called March Reading Madness. Isom and Greenwood have organized four main events: the Book drive, Read to a Dog, Read In and Meet a local Author.

All these events are held after school in the Library Media Center after school from 3 pm through 4 pm. As an added bonus with the attendance of an event, the admission to a drawing for a prize. All that is required is an attendance of an event and tagging the library in a photo on Instagram. If social media is not accessible students can submit a photo to Reading Resources in the FHS Library Canvas course to enter in the contest.

The winners will receive some baked goods or a $10 Amazon gift card. The winners will be posted on the announcements and on Twitter a little before spring break.

"There may be some chance of some cookies or candy, we'll just see how I feel. That's the joy of this, it is whatever we make it," Isom said.

Book Drive

The Book Drive happened on March 4 and the 8. This was where the students of FHS brought in books that were in good condition to be donated.

Read to a Dog

Read to a dog happened on March 13 and 14 and this is where the school brings in dogs that have been trained for big social events. The dogs came from Love on a Leash Central Indiana and students had the opportunity to read to them.

Read In

The Read In is happening on March 20 and this is where the library is open for friends to come and read together for an hour in the library.

Meet a Local Author

Meet the author is happening on March 27 and this is where the local author Shannon Lee Alexander, the author of the books "Love and Other Unknown Variables"," Life After Juliet" and "Max + Becca", will be talking about her books and what it is like to write a book. Alexander will also be signing her books.

Greenwood and Isom's goal is to remind everyone that reading is important and that people in today's society should read more frequently then they do currently.

"The whole point of this is to remind every everybody of what they knew when they were in elementary: that reading is fun and personal and that it's rewarding in ways that you possibly haven't experienced in a while," Isom said.

Junior Megan Strauss enjoyed her time at Read to a Dog. She enjoyed reading to the dogs and seeing her friends enjoy each other's company.

"It's nice getting to know these sweet dogs that are trained as therapy dogs and knowing the fact that I have an emotional support dog myself it's still wonderful having them here," Strauss said.

There are still events that are going on in the month of March so check them out at 3 to 4 at the FHS Library Center.