Band chases to raise money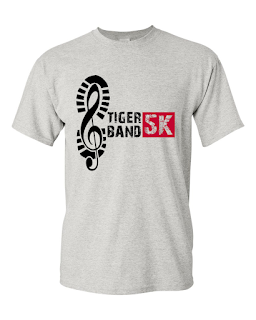 Cold drinks being passed out as exhausted runners step on the finish line of the Band 5K, and the sound of heavy breathing and pop music fills the air as runners catch their breath.
This weekend on Saturday, May 11th, the FHS band will be holding a 5K race for all ages. All proceeds will be given to the band thanks to there 6 sponsors who have covered most of the costs for the event. So far, they have already 3000 thousand dollars for the program.
The race will begin promptly at 9:00 am at the band tower on the FHS campus. The course runs through FHS campus as well as the neighborhoods adjacent across Promise Road.
The race has been in the making since early 2019, which has helped them gather sponsors, volunteers and donations for the race. The committee has also had help from a company, Racemaker, with the name bibs, recording of times, and online registration.
"The Tiger Band 5k was an idea that was suggested when we were brainstorming new fundraising ideas during marching band season last Fall. We are so excited for our inaugural event!" said board member Molly Mudra
Online registration is available and with that comes with the t-shirt. Same day registration is available for 30 dollars; however, there is no guarantee that t-shirts will be available.
People who have successfully registered online for the race should receive an email with the course to familiarize themselves with it as well as the policies of the race, like their no pet policy.
Along the course, there will be students from the band playing music and volunteers guiding the way to make sure that no one gets lost. There will also be a halfway point where people get water.
"We will have band members playing music along the course, which is definitely a unique aspect of this run! Band members are also volunteering in various capacities at the event and some are participating in the 5K." said board member Dan Mudra
Then, after, the committee has gathered some shops and stores to donate some food as refreshments. Local stores like Fresh Thyme, Einstein Bagels, and Nothing Bundt Cakes have donated foods such as fruit, bagels, water and cake for the runners.
"We are looking forward to a great race! Thanks to everyone for supporting the FHS band programs," said Mudra.
Leave a Comment
About the Contributor
Kristen Rummel, Design Editor
Design editor Kristen Rummel is a junior and loves her family and friends. She's played sports like soccer, track, and cross country.