Black Lives Matter movement influential at FHS
Rioting, looting and police stations being burned to the ground have all occurred after news broke that another Black individual had been killed in the hands of the law. Peaceful protests are under the banner Black Lives Matter (BLM) in hopes that racial discrimination in the U.S. justice system will be changed in the future. A social and political movement so big that a global pandemic will not stand in the way of people expressing there opinions and emotions.
In 2012, George Zimmerman, a neighborhood watch volunteer who fatally shot unarmed Black teenager Trayvon Martin, set fire to the national debate on racial profiling and civil rights. Zimmerman was found not guilty of second-degree murder late Saturday night on Feb. 29. He was also acquitted of manslaughter, a lesser charge. 
After the Zimmerman trial in 2012, the hashtag #Blacklivesmatter was first seen on Twitter and other social media platforms. Alicia Garza, Patrisse Cullors and Opal Tometi created the movement in response to the death of Martin.  
Garza, Cullors and Tometi made a website to promote their mission at Blacklivesmatter.com. They have published a mission statement that explains their goals for the future of the justice system. Stating that they hope to create a world free of anti-blackness, where every Black person has a social, economic and political power to thrive.
The hashtag now has over 24 million posts on Instagram alone. The movement quickly gained momentum, gaining more awareness every time a Black individual was killed as a result of an altercation with police. This has led people to do more than just add a hashtag to a post.  
"This last year especially, I made more of a focus to make deeper relationships with minorities in order to try to understand their experiences and how I/the white population can better our ways," senior Graci Calloway said.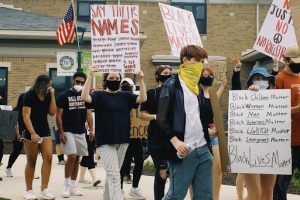 After the deaths of George Floyd, Ahmaud Arbery and Breonna Taylor, people have started demanding change in the justice system. Peaceful demonstrations, protests, riots and looting have been ways that the public has tried to share their support. 
The Armed Conflict Location and Event Data Project (ACLED) collected data from all the demonstrations nationwide, beginning on May 24, the day before George Floyd's death, to Aug. 22. ACLED records show more than 10,600 demonstration events across the country. About 10,100, or 95%, are peaceful protests, leaving fewer than 570, or about 5%, involving violence.
Protests still can become extremely aggressive and are not meant to be taken lightly. Protests in Kenosha, Wisconsin turned violent and left many people injured and some dead. Kyle Rittenhouse, a white 17-year-old, shot three people on the third continuous night of the protests over the shooting of a Black man, Jacob Blake. Two have died and one was critically injured by the semi-automatic rifle. 
"I have gone to some protests. I don't think any of us expect immediate change because the U.S. was built on a system that not only fights against black people but, all 'colored' people," junior Mason Funderburk said. "I feel it is important to show your support for the BLM movement through protests, but if you don't feel safe doing it that way then there are many other ways to show support from home."
Over the summer, there were local events such as the Black Lives Matter demonstration in July at the Nicole Plate District Amphitheater. This protest was organized by the FHS Equity Awareness group. Other organizations such as the Future Black Leaders (FBL) and the Racial Equity Community Network (RECN) provide safe spaces for people to express their opinions and allow the citizens of Fishers to become involved with the movement. 
"I am a part of the leadership committee and we are the leaders of the Fishers Equity Awareness group. We work together to discuss topics, recent new events, how to bring the spotlight to racial injustice, overall we work together to make Black lives Matter," Calloway said.