Take it to Kourt: Hamilton vs. Christmas spirit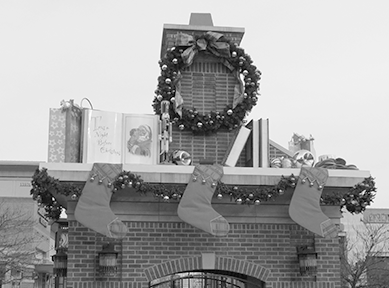 Just one day after Halloween and stores begin filling shelves with all things jolly and merry. Lots of reds, greens and leafy, pointy things.
Holiday tunes play in every store and one brave soul stands outside the front door with a fake smile on his or her face, ringing a bell in hopes of getting donations for one charity or another. Most of the annoyances begin long before Thanksgiving, increasing the suffering for all of the Scrooges and Grinches of society.
While the winter season is stereotypically filled with gaiety over the holidays, the overabundance of Christmas spirit is overwhelming. Often, it starts to feel like holiday cheer is shoved so far down our throats that we are force-fed mistletoe and candy canes.
Four days into November and Hamilton Town Center threw the equivalent of a MTV "My Super Sweet 16" party for the big guy in the red suit. Clad with musical performances, an elf and even a reindeer straight from the North Pole, Jolly Ol' St. Nick was welcomed at the heart of the shopping center and even received a fireworks show in his honor. Unfortunately for me, my place of employment, Rue21, was smack dab in the center of all of the hubbub. Listening to the horrendous holiday tunes all night was not exactly the most pleasant experience I have had in my five months in the workforce.
Ever since that headache- inducing night, the Town Center has been decorated to look similar to the North Pole, complete with a giant fireplace with oversized bedtime story books and toys placed strategically on the mantel. And to top it all off, holiday music plays all day long. Alvin and the Chipmunks are cute, but their high-pitched voices, not so much. All of these obnoxious holiday tunes and cheery decorations are meant to put customers in a giving mood and brighten their day so that they will spend more money. In the end, this psychological mumbo jumbo actually works, unfortunately for those of us saving up for a car.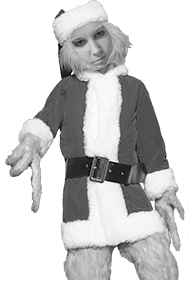 Come on, people, Thanksgiving had not even happened yet when the decorations went up. Everyone over the age of two knows that Christmas is on Dec. 25. It has never changed. No one needs a two-month-long reminder for that date. Tag-team with ABC Family and start the
Christmas celebrating on Dec. 1. November has its own holiday; give thanks, eat too much, gain a few pounds and watch the leaves change to those famous fall colors. Christmas is meant to be celebrated in December and that month only. Let's not start early.