Emily Baumgartner– Moving from Colorado to Indiana, Ryan Duffy is a new addition to the math department. He teaches Algebra 2 and Geometry classes, and he is also the sponsor of the chess club.
Duffy grew up in Michigan and attended Henry Ford High School. He then went on to Michigan State University and studied psychology. During his college experience, he found his passion for teaching.
"I was really interested in cognitive psychology, which is the study of thinking and how the brain works. I ended up taking education courses as a part of that route, and I discovered that I really liked teaching, so I began to explore some more in that direction and ended up getting my teaching license," Duffy said.
This is Duffy's first semester teaching here at Fishers, and he is really enjoying being a tiger. His impression of the school continues to grow.
"Even in the interview process, I was really impressed with the administration staff. Going into the year, I had high expectations for the students because I know they are all bright. I love how motivated, driven and respectful they all are," Duffy said.
Duffy teaches his students in an interactive type of classroom. He likes to incorporate group work and lots of critical thinking questions that engage students.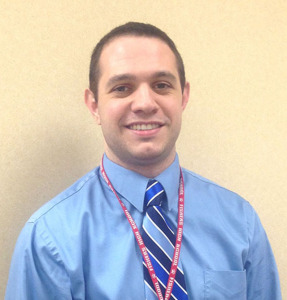 "I want them coming out of my class to feel more confident approaching problems they don't know. I want them to be able to develop a strategy and think logically in order to solve it. The content you're going to forget, but the strategies are what stick with you later in life," Duffy said.