Teachers cope with student-less classrooms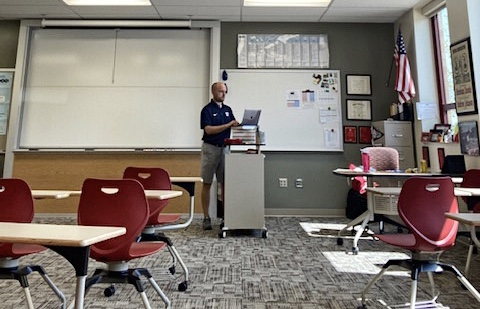 Out of the six districts in Hamilton County, the HSE district is currently the only one that hasn't started in-person learning on the high school level. While students remain at home, teachers show up to empty classrooms each day to teach through a computer screen. Teachers throughout the district are finding ways to cope and adapt to this form of virtual learning. 
"I'm so used to having students to interact with and being able to talk back and forth about even random things," photography teacher Johanna Gianforte said. "Over virtual learning, students tend to clam up a bit and are a little more quiet, so I'm not used to the silence."
Gianforte has utilized her Canvas page by designing it in a way that represents herself so students can feel connected and are more inclined to talk to her. She has also safely collaborated with members of her department about lesson plans in order to stay in touch.
"It's been nice to actually see people outside of my family," Gianforte said. "Even if we are socially distancing and wearing masks, we're able to talk with each other to kind of help each other cope through everything and figure out ideas." 
So far, photography has not had large issues moving virtually. However, they do not have access to Photoshop, which was the primary editing tool for photos. To troubleshoot, Gianforte's classes have been using free, online applications that are similar. 
While they allow students to edit, these applications provide a hindrance to the class because of the lack of technical support Gianforte can offer. Despite these technical issues, Gianforte works through them. 
"It's been nice that we have the office hours," Gianforte said. "I'm able to give more one on one time for students that need it. There's a handful of students I've gotten to know really well because they utilize the office hours a lot." 
AP U.S. History and AP Seminar teacher Matthew Stahl has had to find a new way to incorporate team building and collaborative opportunities. He implemented ice breakers, holds full class activities and does small group work through Zoom breakout rooms
"In some ways, it's like being a first-year teacher again," Stahl said. "I've been teaching for quite a while and to sort of be put back in a position where you don't have all the answers and you're not as experienced as you're used to has definitely been a challenge." 
Stahl keeps in mind that students might perceive class time differently because they are not in a classroom with others. To combat this, he keeps the lessons from getting stagnant by allowing students to interact amongst themselves as if they were in the same room. 
"Even being able to see students' faces and interact with them, even though it's virtual, is really exciting for me and keeps me motivated," Stahl said. "That's why I do this job, to help students and educate them, so it's a great thing to still see and interact with them." 
Gianforte said that she likes the block schedule as the longer periods help the class focus on topics rather than seeing every student for a short period of time. Stahl said that the structure is going well for him so far. 
"I really appreciate all of the students' willingness," Stahl said. "In all my classes, all my students have really stepped up to the challenge and nobody is complaining. Everybody is doing their part and trying their best, which goes a long way on my end to motivate me, too."