Return to recycling: Environmental Club takes action to clean up FHS
     When students returned to school at the beginning of the year, they were puzzled to find that all of the various recycling stations located around the building had been duct-taped closed.
     At the end of the previous school year, the Ray's recycling service that collected plastic from the school was discontinued. When the Environmental Club learned of this, they stepped in.
     "We're still not sure why this occurred as the district pays for recycling collection at all schools with an active recycling program, which Environmental Club provides at FHS," senior and Environmental Club President Grace Moriarty said. "When we learned of the discontinuation, we contacted our deans and custodial staff about how we felt that stopping recycling collection at FHS would be a grave mistake as Environmental Club has continually helped greatly reduce our school's eco-footprint via recycling collection."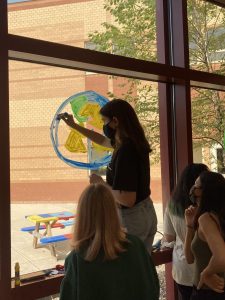 Due to the club's efforts, recycling will be reinstated after fall break. Junior Jun Park says that getting recycling back was an important first step for the school and club to take to prevent climate change.
     "By 2030, climate change is going to be irreversible and hopefully we will do greater things than recycling in the future," Park said. "Recycling is just one step for the greater things we will do."
     Environmental Club does not merely collect and facilitate recycling. Throughout the year, the club hosts a variety of events geared towards cleaning up the school and educating students about the importance of caring for the Earth.
     "We will be hosting a trash walk this semester to clean up Billericay park," Moriarty said. "We are also planning on hosting environmental documentary nights in the future."
     The club's Instagram bio states that the Environmental Club was founded to protect, sustain and educate.
     "Well, in addition to collecting school recycling, we will be hosting an Earth Day event in the spring for all students to attend," Moriarty said.
     At the event there will be informational booths about environmental issues, planting activities and a possible guest speaker. 
     "I think another great benefit is our ability to inform our student body of environmental issues and present real-world solutions that are attainable for students," Moriarty said. "Hopefully, this will inspire students to go on to spread the message of environmental activism to others and support important policies relating to it now and in the future."
     Pardo believes that getting involved with environmental activism is one of the best things that a student can do to impact our future. She says that Environmental Club gives students the opportunity to help change people's perspectives on sustainability.
     "I encourage as many students as I can to join our club because it's such a fun environment to hang out and be able to make some changes for the school that benefit both students and staff," Pardo said.
To join Environmental Club's Remind, text @eecd69 to 81010. The club meets every other Wednesday outside of H212 and is welcoming new members.
Leave a Comment
About the Contributor
Emma Tomlinson, Arts & Culture Editor
Emma Tomlinson is a senior and the arts & culture editor for N the Red. She enjoys hiking, traveling, and eating bow tie pasta.