Environmental Club plans Earth Day celebration
     Every year since 1970, Earth Day has been celebrated across the United States on April 22 as a holiday to demonstrate support for environmental protection. In observance of the holiday, the Environmental Club will be holding an event on April 21 in the CCA from 6 to 8 p.m. The event will feature presentations on topics such as the history of Earth Day, games for children to play and a Kahoot near the end of the night to test attendees' knowledge of the holiday.
     "We've had it [the event] in a couple of years past," club historian and sophomore Jack Moriarty said. "We're going to have a couple of stands for different people, like I know we had one for Greta Thunberg [at the last event] and we're going to have some games there. We may have some lectures on things about the environment such as pressing issues and things like that. Overall, it will just be a good time for people to come and hang out and learn what we can do to help the world."
     Club officer and junior Natalia Pardo said she was excited to see the different booths at the event and the results of the Kahoot at the end.
     "I love the Kahoot at the end because, obviously, everyone loves Kahoots," Pardo said. "It's a fun way to see who learned the most or who gathered the most information or just who has the best memory. As for booths, we haven't done the history booth yet, so I'm really excited for that one."
     Pardo hopes that other clubs will participate in the event, since the Environmental Club is smaller in the number of members it has and therefore limited in its outreach.
     "Making connections with clubs such as MSA and Cultural Connections – which is also a new club, too – or with SAFE Club allows us to boost our reputation and get more interest in our club to make a bigger impact," Pardo said.
     While the Earth Day event is significant for the club, Moriarty said the Environmental Club focuses on other activities, too, such as recycling and organizing trash walks.
     "We enjoy just helping out," Moriarty said. "We make some crafts. We made some water bottle planters for some smaller seeds such as sunflowers. We just do anything that we can do to help out with the environment in the future."
     The Environmental Club's next meeting is on April 13. More information can be found by following @fhsenvclub on Instagram or by texting @eecd69 to 81010 to get access to the club's Remind. 
Leave a Comment
About the Contributor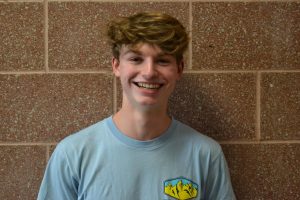 Andrew Haughey, Online Editor
Andrew Haughey is the web editor for the FHS student newspaper N the Red. His skills include the ability to drive a boat, play chess, and touch the rim...