Speech and Debate team places third overall at State Debate Tournament
     Performing the best they ever have, the Speech and Debate team placed third overall at the State Debate Tournament held at Marian University over the weekend. Additionally, the World Schools Debate Team came back as state champions. 
     The World Schools Debate Team debates an array of topics and applies them on a global scale. In contrast to events like public forum, which is mainly evidence based, World Schools Debate focuses on critical thinking. The Speech and Debate team meet several times leading up to the meet, practicing debating against each other and working on individual events. 
     "Being named state champions was the best possible payoff for months of hard work," senior and World Schools Debate competitor Meghan Chen said. "After a couple of strenuous weeks leading up to the meet, it was really rewarding to see everything come together. I'm so incredibly proud of the whole team for placing 3rd in the state. Fishers has never done that well, and this year's success was no coincidence—placing 3rd was the result of so much hard work from the team, and I'm so glad they got to see what came of it.
     Junior Lauren Hobson believes that the team's consistent practice and hard work contributed to their overall success. Hobson competed in the public forum event. 
     "Personally, I am so proud of my debate partner and I," Hobson said. "We worked our butts off for weeks to compile research and really work on our skills, and I am just so proud of us both. We ended up getting fifth at state, but were seeded first after preliminary rounds."
     Both Hobson and Chen encouraged others to join Speech and Debate, as it is a fun experience. They believe the team dynamic is like a family. 
     "Just being around everyone who shares the same interests as me is amazing," Hobson said. "It really is so supportive and I love the competition environment."
     During the meet, there were Speech and Debate team alumni that were judging for the current team.  Chen was happy to see them again, as she enjoyed seeing the community stretch beyond graduation. 
     "Hopefully we can continue with the same success next year," Chen said. "I know there's another World Schools team of juniors that are going to be a real promising bunch next year, and many of our top-notch debaters aren't even seniors yet. I'm confident in the leadership we have going into next year, and I'm so excited to see what they accomplish."
Leave a Comment
About the Contributor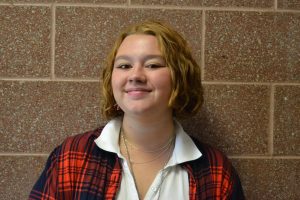 Lily Thomas, Features Editor
Lily Thomas is the features editor and senior at Fishers High School. She enjoys writing, the autumn season, and matching her makeup to her outfits.