Krispy Kreme opens new location in Castleton
     Ecstatic Hoosiers line up around the block early morning on March 1 for the grand opening of Krispy Kreme donut shop. Police direct traffic for most of the day as hungry customers file in, following the smell of freshly baked donuts. 
     "The crowd was huge," senior Tony Miller said. "There was a line stretching almost out of the store and the drive-thru was packed even tighter. If there wasn't police to direct traffic it would be a mess." 
     The Castleton Krispy Kreme location on E 82nd St Indianapolis offers dine-in, drive-thru and delivery options. Contactless ordering is available through the app and online webpage. The store offers 14 different flavors of donuts while supplies last. Served with an array of frozen treats and hot espresso beverages like frozen lemonade and classic vanilla lattes. 
     This Friday, March 11, Krispy Kreme is launching a new glaze for their classic original glazed donut. A rich chocolate glaze is being added to the roster. 
     "The atmosphere was welcoming, and everyone inside the store seemed just as excited as I was," Miller said. "The donuts were 7/10. I really enjoyed the cream-filled Oreo donut."
     Krispy Kreme's open hours are Sunday through Thursday 6 a.m. to 10 p.m., Friday through Saturday 6 a.m. to 11 p.m. Throughout the day, when a location is in the process of making donuts, the 'Hot Light' will be illuminated. This indicates the location will be selling donuts fresh off the conveyor belt. Every person is eligible for one free, original glazed donut with any purchase made. 
     "Having a donut place this close to my house is dangerous," senior Evan Gilbert said. "Since they're open so late, this is going to be a place that I frequent this summer."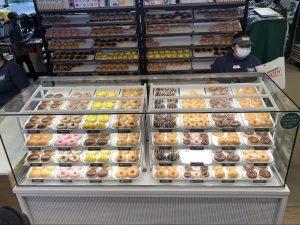 Leave a Comment
About the Contributor
Kristen Rummel, Design Editor
Design editor Kristen Rummel is a junior and loves her family and friends. She's played sports like soccer, track, and cross country.