"Do Something Club" debut
The new "Do Something Club" commences with its first meeting.
   The "FHS Do Something Club" is a new club for Fishers high school that had its first meeting on Oct. 12. The club was created by Senior Melissa Jessup. It is based off of the service website, dosomething.org, that challenges young people to help the world around them. 
   "We do campaigns supporting different causes," Jessup said. "We are planning to start collecting items to help as many different problems in the world as we can."
   Sophomore Madison Eberle is also a member of the "Do Something Club" and enjoys having an outlet to help. 
   The main purpose is to better our community," Eberle said. "By doing our part to better the community, we are working to make the world a better place."
   The members enjoy the positive environment the club provides. "Do Something Club" utilizes teamwork to improve the community.
   "We work together as a team to do these things, which I think is super cool," Jessup said. "It's not like a single person trying to make a difference. It is people around the school seeing the posters I put up wanting to help make a difference by coming to the club meeting, even though they don't know anybody just because they want to make the world a better place."
   The club allows the members to connect with each other while helping their community. 
   "I love meeting new people, so it's been a great way to meet new friends and meet people who are passionate about the same things that I am," Eberle said.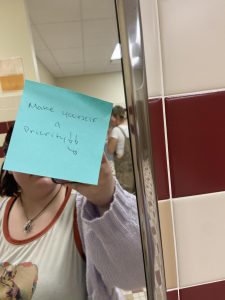 For the club's first meeting, the members put uplifting sticky note messages in the bathrooms. 
   "[The messages are] a way for people to remind themselves that they are loved and that they are amazing no matter what they're going through at the time," Eberle said.
   Despite the club just beginning, the club is already making impacts.
   "I am so overjoyed with what the club has become," Jessup said. "I never thought that it would be this big of a deal. I am reaching so many different students at Fishers, which I didn't think would happen."
   The "Do Something Club" meets every other Wednesday in room B201. The members plan to do donations for food pantries and create cards for the elderly or the Peyton Manning children's hospital kids in the future. 
   "Come to our meetings if you're looking for a place to boost your confidence and spread positivity around your high school and your community," Eberle said.
Leave a Comment
About the Contributor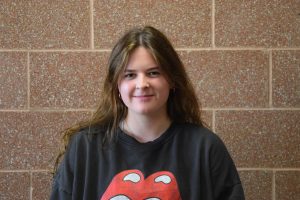 Lainey Akins, Reporter
Lainey is a sophomore at Fishers. She enjoys playing rugby and watching Marvel.