Job search turns out disappointing for the hopeful
Looking through the local job listings online as well as through the local paper, junior Konrad Wolfmeyer worked on finding a job during his summer. He started his search for a job at the beginning of spring; he began searching so he could have money.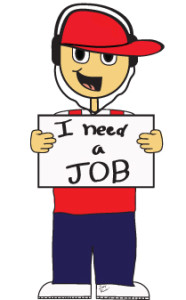 Wolfmeyer states his reasons for wanting money are general; he would like to have money for gas, his girlfriend or just the simple meal on the go.
Over the summer, Wolfmeyer attempted to apply for multiple jobs; they ranged from landscaping to working in a fast-food environment.
"By the start of the summer I had about given up," said Wolfmeyer. "I thought my Yogi interview was really promising, but when I didn't get the job I just stopped looking."
During the summer and school year Wolfmeyer participates on the soccer teamatschool;hisyearroundtraining does not allow him to be flexible with his scheduling, which is a reason he believes he did not have much luck in his job hunt.
As of August of this year the unemployment rate in Indiana was recorded by the U.S. Bureau of Labor Statistics as 8.7%. The highest recording of unemployment occurred in June of 2009, with 10.9% of Indiana residents unemployed.
At the end of the summer students with seasonal employment found themselves out of a job due to weather change. Lifeguard during the summer season, and unemployed as soon as the
pool closed for the winter season, is how senior Natalie Over found herself out of a job. Like Wolfmeyer, Over would like to have money to pay for going out with friends and doing other activities.
For other students the search for a job ended in a success. After searching for a job for around eight months junior Chris Bridge found an opening at a local fast food place. He received notification that he got his job Wednesday, Sept.14, and he started that Sunday.
Bridge looked many other places before he found his current job, but either the place was not hiring at the time he applied or he never got a response from the place.
"What I did differently this time is I looked online for places that had a position they were trying to fill, and that really helps, cause they hired me on the spot the first time that I looked at a place that had listed online," said Bridge.
As for Wolfmeyer, the end of summer and beginning of school caused problems to his job search. He continues his pursuit while remaining aware of the limitations of his schedule.