Wintertainment displays student talent
Lizzie Brown– Skilled students prepared for weeks for the school talent show, Wintertainment, that took place on Thursday, Jan. 29.
Acts ranged from acapella groups to twirling rifles and performing speech skits. Students that chose to participate have worked for weeks outside of school to prepare to perform on stage.
"We prepare by meeting on the weekends and running through a plethora of potential pieces. We end up choosing our song by what's the most fun and natural to perform," senior Caroline Shanley.
Shanley and her partner Thomas Ritz performed a cello-singing duet to the popular song "Wrecking Ball" by Miley Cyrus.
"We love performing and collaborating together and it's really cool to be able to share our sound with the school," Shanley said.
Mass Media teacher Jon Colby was the host for the show. He made jokes that ranged from Emma and Trevin Rund being the only "married couple" and whether or not Fishers knew any hip-hop lingo.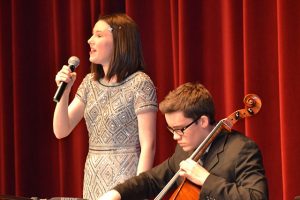 Other acts from the night included two boy bands, one called Citizen Kane and the other The Jackson Sutherland Band, and a dance routine performed by the Fishers Fushion dance team.