DECA club qualifies for nationals, seeks to grow membership
When most people think about how they want to spend their free time some might imagine hanging out with friends, going shopping or watching TV, but some students like to compete in DECA, a business-related competition. The competition is held by the Distributive Education Clubs of America organization.

DECA club meets once a month during which they prepare for events in the categories of business management and administration, finance, marketing, entrepreneurship, hospitality and tourism.

"It's usually kids who are interested in the business field, but I know there are some kids who want to pursue other careers," senior Woojin Chung said. "It teaches communication and patience skills."

They recently competed in a state conference where they placed third, qualifying for the international competition.

"There's everything from individual to partnership events," senior Matthew Koeske said. "You have a written test and they average your scores and there's also a roleplaying event that you do that's like a business meeting where you go over a case they give you."

Currently, DECA club is relatively unknown but they hope in the future to expand the number of participants.

"We're working on expanding the club right now," senior Kyle Stowe who is president of the DECA Club said. "That's the goal for the next two months is to make it bigger, to make sure eighth graders coming in know about it."

Through expansion and growth members hope to do even better next year.

"We're still kind of new, last year was our first year of independence," Koeske said.
Leave a Comment
About the Contributor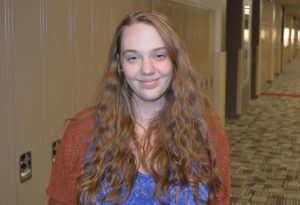 Marie Gabbard, Reporter
Marie Gabbard is a first-year reporter and a senior on staff.