S.A.F.E. Club opens new perspectives on race and religion
When hearing S.A.F.E Club the first thing that may come to mind is the safety of students, but the meaning behind it is much more than just student physical safety.

S.A.F.E Club or Student Alliance For Equity is a club that was created this year for students to have a voice in issues that are surrounded around feeling identity safe.

During meetings, students gather to talk about ways students do not feel safe in their personality while trying to address the problems that can bring systematic change.

"Our goal is to create a welcoming and more identified self-school by inviting people to understand any misunderstandings about certain people and their beliefs and religions without feeling oppressed," Librarian and sponsor Renee Isom said.

S.A.F.E Club member and sophomore Kaelyn Dart has attended every meeting this year and mentions a topic recently brought up has been shootings, or more specifically the New Zealand shooting.

"We've talked about how we can prevent people from acting out in situations whether in a similar manner to the shooter or not," Dart said.

Isom explains each year the club tries to focus on a new topic. This years topic or main topic has bounced around from white male privileges and contact policy since the club is still in its early stages of development.

"Hearing other perspectives on topics help shape and mold the club and new members always benefit from that," Dart said.

S.A.F.E Club's next meeting is on Apr. 17 in the media center. Students are encouraged to come to at least one meeting to form new perspectives.

"If you want a space to learn of different people and the issues they might face or the biases they may feel or even understand where they're from, S.A.F.E Club is a great place to start," Isom said.
Leave a Comment
About the Contributor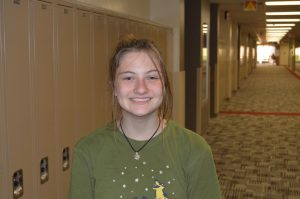 Janie VanOverwalle, Reporter
Janie Vanoverwalle is a sophomore at Fishers High School. Its her first year on Newspaper,she enjoys doing creative works, hanging out with friends and...