River monster slithers into Conner Prairie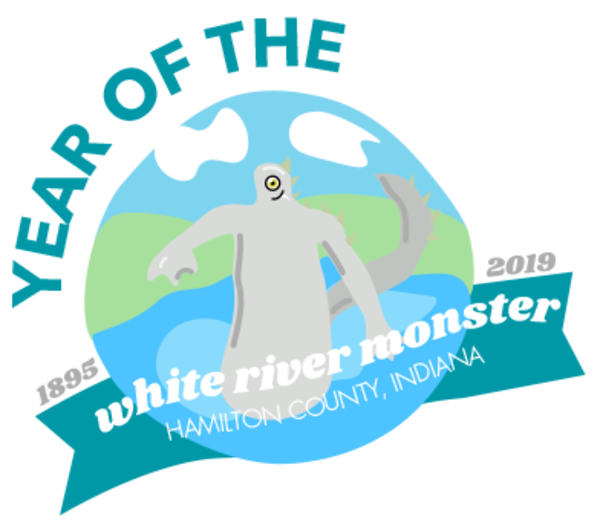 Ever since the July of 1892, when two men on a horse-drawn wagon spotted a serpent-like animal in the water, the White River monster has been a part of Fishers lore. This October and November the White River monster is making its return home.

The monster itself was described as being "a huge serpent, 12 feet in length and perhaps three feet in circumference with a forked tail" by the men in the wagon. They were driving on what would become Highway 19. A few weeks later, several fishermen found the body of a deceased cow caught up in some brush on the banks of the White River. They suspected the cow to have been what the men saw but it didn't put a stop to the tales of the behemoth serpent.
Now Fishers, Noblesvillle and Carmel are teaming up to bring the White River monster back into mainstream media. The cities are holding events at which a man dressed as the mythical monster will be entertaining all attendees. The cities hope this will celebrate the unique culture the monster gives Hamilton County.
Sophomore Nicole Randolph said she believed the legendary beast to simply be the dead cow the fishermen found a few days later when she heard the tale for the first time. She went on to say that while she didn't believe in the White River monster it was important for Fishers to celebrate urban legends such as this.
"It would set us apart from other people or places," Randolph said.
Freshman Ethan Butz took a more lighthearted approach to the topic when talking about the folklore associated with the White River monster.
"The word monster makes anything sound cool," Butz said. "And I don't think the dead cow fully explains the story."
Butz also said he thought the idea of a person dressed up as the White River monster at Halloween was a great idea because of the mood the word "monster" put people into.
The White River monster will be at Conner Prairie on Oct. 24-27, Nickel Plate on Nov. 1 and River Road Park in Carmel on November 4-30.
Leave a Comment
About the Contributor
Andrew Haughey, Online Editor
Andrew Haughey is the web editor for the FHS student newspaper N the Red. His skills include the ability to drive a boat, play chess, and touch the rim...