Student opinions on Targeted Instruction
     This year students are adjusting to a few changes, like going back to in person classes, the new school start times and targeted instruction. Targeted instruction takes place during most fifth period classes, and students must only be present if they are requested by a teacher. Students can use this time to come in for extra help and get some of their homework done.
     "It could be really helpful because it gives you that one-on-one time with a teacher," senior Ellie Metzger said. "You can catch up on missing work."
     However, some students like targeted instruction because it gives them extra time in the morning. This is something that students are unable to do on a regular school day.
     "I personally like it because of the sleeping in factor," Metzger said.  
     According to Metzger, targeted instruction was something that could have helped her in the past when she did not have a study hall, and is something that could be really beneficial for students now.
     "I always had to go in [for help] before or after class which was an inconvenience for me," Metzger said. "It was just difficult when I didn't have a study hall."
     For other students, like senior Ravneet Kaur, targeted instruction is something that has helped her with her more challenging classes.
     "I went in a couple of times," Kaur said. "going further and deeper into the curriculum itself during targeted instruction has really helped me."
     Students who have not been scheduled for targeted instruction can still come in and sit in one of the cafes or the cca. For Kaur, this can be a good thing.
     "You can come in and hang out with friends and do homework at the same time, or you can go to a cafe and get it [homework] done," Kaur said.
     Before targeted instruction, students like Metzger would have taken time out of their study hall to go to teachers for help. However, for students who did not have a study hall, that was a problem.
     "I feel like in the future if I do need to use it [targeted instruction] then it will be nice," Metzger said. "It is set out for a specific day, so you know that teacher is available when you are available."
Leave a Comment
About the Contributor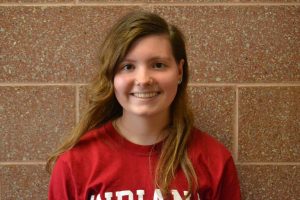 Abby Miller, Reporter
Abby Miller is a senior at Fishers High School. She loves the outdoors, swimming, and a good book.