Energy Action Club sponsored by science teacher Heather Ferguson recently began planning their year. They started off their year with the White River cleanup on Sept. 8.
"We go around to all the rooms and check the temperatures, lights and blinds. If there is no one in the room the lights should be off and the blinds should be closed," junior Allie Diaz said. "We also have things we do outside of school like the White River cleanup."
Diaz has been doing Energy Action since last year and said it is something she enjoys spending her time doing. Energy Action Club is a way to get extra volunteer hours and help out the community.
"We meet once a month during smart period," Ferguson said.
Some of the club members, such as Diaz, believe that the club should meet more often in Ferguson's classroom. They believe meeting for a little less than an hour a month is not enough.
"I would like it if we met more often than we do, at least two times a month would be nice," Diaz said.
Right now the members of the club do not know of any upcoming events. They are hoping to hear more about the schedule at the next meeting.
"We don't have any plans outside of school that I know of yet, we should hopefully hear at the next meeting," junior Jeremy Beaver said.
Beaver has also been in the club since last year and plans on staying, because he says he think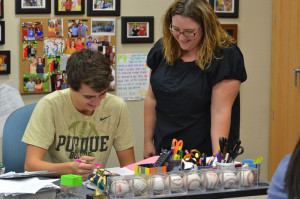 s it is worth his time and he likes to help in the community.
The club started up again at the beginning of the year, but that does not mean it is too late to join. Contact Ferguson for more information on joining the club.