Interact Club volunteers to improve community
"
"The club is focused on helping and assisting our local community and that concept is something I truly believe in. It is also an opportunity to help students learn and adapt leadership skills, which is an awesome thing to witness and be a part of," Ringo said."
Interact Club attempts to make the community better by volunteering and helping people out. English teacher Samantha Ringo sponsors the club and helps the students with their tasks. The group follows the slogan "Service above self."
"The club is focused on helping and assisting our local community and that concept is something I truly believe in. It is also an opportunity to help students learn and adapt leadership skills, which is an awesome thing to witness and be a part of," Ringo said.
Some service opportunities they were involved in so far include: collecting cans for the humane society, dictionary labeling for local elementary schools, the Octoboo event at the Fishers Library, District Day, where they packed hygiene kits and got to meet other Interact Clubs and the FHS canned food drive. They are constantly helping people in the community, one way or another.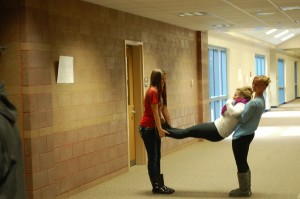 Interact Club meets every other week, on Wednesday mornings at 7 a.m. in the LGI. The times and locations of the service events vary based on what the event is. Anybody can join and no prior experience is needed to participate. If a student is interested, they should talk to Ringo in A208 in order to join.